Mel Mayberry is a guest blogger here and she just returned from a cruise.  Having never been on a cruise (me either) she shares with us her advice for cruising.  Today is Part One, tomorrow is Part Two.  Thanks Mel! 
Taking a cruise had been a long-time desire for this girl who suffers from wanderlust on a daily basis.  So last summer when I was asked to go along with three friends on a January jaunt, I jumped at the chance. Fortunately, my companions had all cruised before. They graciously took the novice by the hand and led me through a very memorable experience.
What I learned:
All arrangements were done on-line and by phone.  We paid our deposits early and were able to have the entire balance paid well in advance.  The cruise line gave us the option of paying our gratuities up-front, which greatly simplified things.   After visiting with our dining room servers and learning they do not receive a base wage but work totally for tips, I wanted to add to the amount I gave them.  This adjustment was easily accommodated at the Guest Services desk right on the ship. (Alas, the    maître'd, who totally ignored us, earns a salary and I was not able to adjust his gratuity.)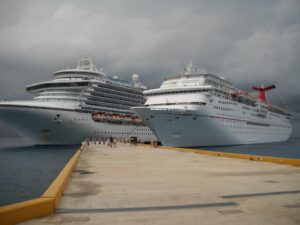 Cruise lines are professionals.  Our check-in process was smooth. Our boarding passes were e-mailed to us prior to leaving Iowa.  Make sure you have your passport and driver's license ready when checking in,  then simply lock these in the safe provided in the cabin because you won't need them again till coming back to into the U.S.  The cruise line provides each passenger with a card (much like a credit card), pre-printed with your name and dining room location.  This card is your room key as well as your on-board identification, so be prepared to carry it with you always.  A lanyard with some type of pocket or case is helpful…don't worry about looking like a nerdy tourist…a lot of people use this simple way of keeping their cards with them!
Map cards of the ship were in our cabin on arrival. Spares were available at Guest Services. There were also "you are here" information signs posted at the elevators. These are very helpful in learning where things are located and even remembering which deck you're on!  The day's activities were listed on a sheet which was left in the cabin each evening. This was essential in planning for my adventures the next day.
There was only one night when the sea was rough and the ship rocked a bit. My cabin mate had a spare pair of wristbands with acupressure knobs which she loaned me for sleeping that night. I didn't have any trouble with feeling queasy. These are available for purchase at the ship's gift shop.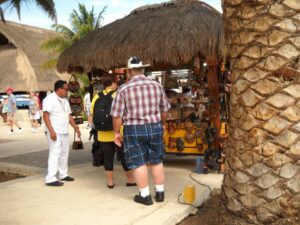 People of all ages, shapes and sizes love to cruise.  There were scheduled activities for children, family-oriented events and adults-only areas such as the Serenity Deck and the "Over 18 Comedy Show."  We saw a great stage show called "Shout" which featured music of each decade from the 1950s to current, as well as some country and gospel. It was a high-caliber, very professional performance with great singing, dancing, costumes and lighting. Piano bars, karaoke, casino, afternoon movies and a "meet the crew" event were a few of the other places to have a good time.
Cocktails and wine are not included with the price of the cruise, and I had been warned that they can be very expensive. However, I didn't find the prices to be out of line with what I'd expect at a nice restaurant or club.  The "drink of the day" was always about a dollar cheaper than the regular drinks, and were in tropical flavors which were great fun to try.  Plus, they were hand-delivered by cute servers…definitely worth that little splurge while sitting in the sun!
Speaking of servers…I quickly changed my mistaken notion that working on board a cruise ship would be glamorous!  Our dining room servers were stellar in every aspect, and were friendly and easy to visit with.  Even though we saw the same crew each night, it was not unusual to find the same individuals during the day serving breakfast, bussing tables, making pizzas…you get the picture.  They explained their dining room duties often ended at midnight with inventories and cleaning, yet their morning shifts often began 5 or 6 hours later.  Sometimes, they had 30 minutes to an hour off to rest and change before the evening service. During days at port, they were allowed one "lunch off" per cruise, which consisted of 3 hours off the ship for personal pleasure.
Generally, the entire crew works a 7-9 month contract during which they are aboard the ship and expected to follow this grueling schedule. Those with families then go home for a month or two to visit, then come back and do it all over for another contract.  One of the crew explained "I am able to save money because there is no time to spend it."  However, as I mentioned earlier, that money they save comes entirely from tips, not a base wage!  When asked if there were better opportunities or wages with other cruise lines, it was explained that this would require starting at the bottom again.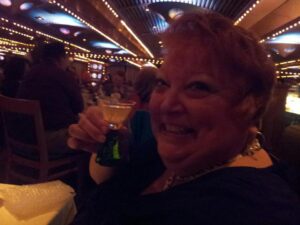 There are great opportunities for learning something new around every corner.  I attended an art auction, a nutrition class, dance lessons and a martini sampling.  We discovered a cute little sushi bar tucked between a nightclub and the casino.  From 5:30 to 7:00, we could select from two varieties of sushi and accoutrements.  The dining room menu included (in the starter section) a dish called "Didja"…as in "Did ya ever want to try…?"  These dishes included escargot, frog legs, and alligator hush puppies…things I wouldn't want to splurge on back home.
We chose the later dining option (8:15).  The other dinner time was at 7:00. When I cruise again, I will definitely choose the later dining.  It truly seemed to extend the day, allowing for a leisurely amount of time to get ready to head to the dining room.  My co-travelers also felt that the servers were a bit more relaxed since there wasn't the need for a quick turn-around before the next meal. The only drawback was that none of us were even remotely hungry the night of the midnight Mexican buffet!
The last night on board, we packed our suitcases with everything except the absolute essentials for the next morning's debarkation.  Our bags were then placed outside our cabins and we didn't see it again until our final port.  When reclaiming our luggage, we had the opportunity to pack those things we'd used the night before but didn't want to carry onto the plane.  We were warned to make sure we remembered to leave out clothes to wear the final morning so we wouldn't have to wear our pajamas to the airport!