Guyla Pohlman, owner of Wood Cellar is our feature interview today. The Wood Cellar is located at 8 1st st NW, Hampton, Iowa. The pictures are all items in her store – and sho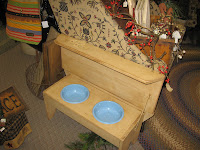 w how much fun shopping is at the Wood Cellar!
Tell me about yourself. I like to go antiquing and to flea markets. I have 3 children, Tyler is the oldest and he is manager of Gamestop in Chicago, Kelsey owns the Orange Possum and our youngest is Brandon and he's a senior at HD. He will be going to college into law enforcement. My husband Howard and I have been married 25 years. He works at SeaBee's as a manager. I also have two stepsons. Matt is in Manly and Nick is in Riceville.
How did you get started with the Wood Cellar? I opened my store in 1990 at the same location. I carried a lot of consignment items, plus our own things we made in the cellar (hence the name). We used to do craft shows as well. We got so busy with our own jobs we stopped making our own stuff. About 4 years ago Howard started making our furniture in the cellar again.
Do you have staff that help out? Pauline Strand and Amy Perez have worked for me for 10 years now and have helped my store be successful! Sue Adams also helps out o the holidays and Saturdays. They allow me to get out of the store to go to flea markets.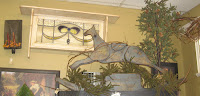 What kind of items do you feature? We are country primitive – we like to mix the old with the new. Howard's handmade furniture is replica's of antique furniture.
Do you any specials this month? 20% off all holiday items. We have a lot of the holiday items in right now. Plates, snowmen, trees, stitchery, hot cocoa, stars , candles and much more. It's a good time to come in and shop!
What kind of items do you have in the store? Stitcheries, purses, cand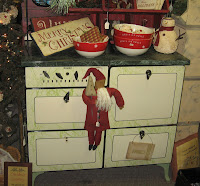 les, gift items, flat wallets, jewelry and all the home décor you can think of! Dolls, prints, rugs from small to room size, curtains and valances, linens, prints pictures.
Why did you decide to go with country primitive? Well you don't see it much and we just love it. We carry wooden dough bowls, upholstered furniture- that is more the colonial style . I really like antiques and country primitive seems more cozy and warm.
What is your house like? Its old 2 story home and furnished just like what I have in my store!
How can people shop over the phone with you? 641-456-5510 Just describe what you saw – and we will help you from there. If there's something you want that you did not see – just talk to us! I'll help you with that! We are very good at finding what you want, or building it.
I also carry the Olde Century Colors paints – there are only two of us in the state that carry them. Go to website http://www.oldecenturycolors.com/ or stop in – and choose your color and we will ship! Olde Century Colors paints have been formulated to lead the renaissance of 18th and 19th century architectural interest with unsurpassed quality and color selection. Recapturing the tradition of the early American paint craftsman, milk paints,acrylic latex paints and oil base paints, and gel stains and varnishes are manufactured in small b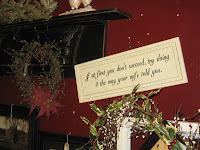 atches with the same meticulous attention to detail as our skilled forefathers. Olde Century Colors have been carefully selected from 18th and 19th century architectural examples.
Any thing else you'd like to add? I love coming to work! In January we all go to a cash and carry event in Madison and bring back one of a kind and unusual things – that you can't get at market. Come in and see the new.