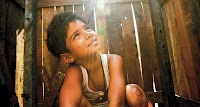 I've been in Chicago since Christmas Day. I lived here 30 years and it feels like coming home. I've seen two movies (you MUST see Slumdog Millionaire), ate my favorite gyros at Daves Hot Dogs on 23rd and Western, had the mandatory dinner with Erin at Golden Nugget on Clark and Diversey, shopped the bookstores, had coffee in the morning at Dunkin Donuts on Halsted and Diversey, chicken from Popeyes and today going to Pier One to find the perfect desktop organizer.
Now I can do these things in Iowa, where I live. But not without driving over 50 miles. There is something to be said for convenience. Which got me to thinking….
What kind of convenience do I offer in my business? Is it easy to reach me? Can you reach and find just what you need quickly? Do our products make people's lives easier?
As I work on goals for 2009 this week, I'll be building in some things to create convenience for my customers and for my team.
What are you doing to make your business more convenient?
Let's talk about Slumdog Millionaire. This is a movie that should be required viewing for all entrepreneurs. If this kid can survive, there is no reason you can't. Just Go See It.