I like to travel.  I especially like to stay in one place and travel out each day.  That's what we've done this weekend.
Today we at breakfast at the Highway 65 Cafe in Lincoln,Missouri , for the 2nd day in a row.  A good sign at a restaurant is there are many local cars in the parking lot.  They use fresh eggs there – and you can taste the difference.  Church in town followed and it was very pleasant – good message, nice people and beautiful stained glass windows.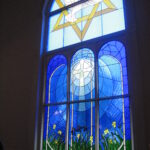 We made our way to Cole Camp.   It's a community founded by Germans in the early 1800's.  Now it's a historical town on the historical register.  Carol Rupp sat with us in the Historical Society and gave us some history, answered some questions and shared a few stories.
We made our way across the street to a shop called Handel Haus.  It has a wonderful tea room – I was ready to sit down, drink tea and visit with my girlfriends.  The best thing about this shop was the way they merchandised the store.  Little vignettes all over and under the tin roof.  The store was built in 1920 and was originally a dry goods store.
We were hungry for coffee and a pastry.  At our home church, after the service we get fed good things, like coffee and pastries!  We made our way down the block to the Red Baron.  Mom had bread pudding and I had pecan pie.  Oh my!  Scrumptious.
Now we needed to walk!  We walked around town and took some great pictures of buildings and created stories about them.  One day I'll stay in town longer and get the real stories.
Now we new we had to stop at the pizza place.  Early in the morning, Bruce, who works at our Lodge, asked us if we had had pizza yet.  He told us to go to Cole Camp and turn right at the first stop sign.  Calgaro's Pizza had moved here 10 years ago from Chicago – and they made real Chicago pizza.  Now I lived in Chicago for 30 years, and know Chicago pizza.  The minute you walk in the door, you know you are at the right place.  The smells whisked me back to Chicago and promised me great food.  We ordered an Italian beef for mom and a pepperoni pizza for me.  While they were being made, we chatted with the owner.  Mrs. Calgaro said they moved to Cole Camp because they just needed a new environment and they felt at home there.  We carried our food back the hotel and I bet you heard me moaning wherever you are.  It was real Chicago pizza.