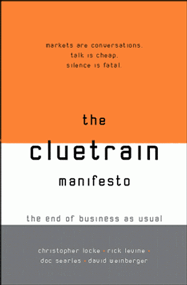 10 years ago The Cluetrain Manifesto was written.  
It's a set of 95 thesis written as a call to action for all businesses operating within a new marketplace.  These ideas were written to examine the impact of the internet on consumers and organizations.  
Cluetrain plus 10 is a homage to the original

.  95 writers will once again create the Cluetrain Manifesto.  I am number 32.  My assignment is to write about: 
Smart markets will find suppliers who speak their own language.  
I'm a green network marketer.  
I need a supplier who gives me a product that works, is easy to talk about, is green and affordable.
 I don't want to sell the product.  I just want to talk about it.
 I want to talk about my supplier and how great a company they are.  I also want them to pay me to do that.
  I don't want a garage full of products I'm trying to sell.  I don't want to chase people down for money.  I just want to tell people about the company and the products — and I want the company to pay me to do that.
I found that company.
 That is my job.  I get paid for referrals.  I use the products, talk about them, talk about the company.  The company pays me to do that.  
I have found a supplier who speaks my language
.  They've been speaking this language for 25 years.  They send out checks to over 200,000 people every month.  
Yes they have an internet presence.  Website, videos, marketing executives like me who blog about them, and their own YouTube channel.  They've been building their online presence for about ten years now.  
What other suppliers are meeting the needs of a smart market?
  Dell builds computers that their market wants.  Radian 6 talks to their market and helps them find what they need.  Twitter, still with no business plan, meets the needs of their market.  These are just a few.
What I want to know is this: how do we turn all markets into smart markets?
 What about those people who 'don't understand computers'?  They are our mothers and fathers, our neighbors and friends.  What obligation do we have to them?  How can we turn them into their own smart market?