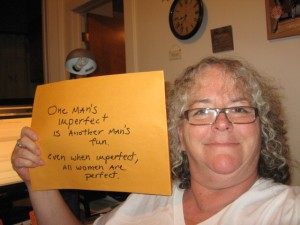 Two years ago today I was laid off from a 9 to 5 job.
I made a commitment to spend 24 months learning what social media is, using it and creating a difference.
Here's what I've learned in those two years:
Twitter is more than talking about what you are doing
Blogging can change your life
I'm a lucky girl
Facebook is the new party line
Anyone can do this
If you're smart business owner, you'll utilize social media to grow your business
Listen twice as much as you talk
Make new friends – they'll change your world
Speak up
Tell a story, people want to hear it
Here's what I've done:
Helped write a book – Age of Conversation 3
Presented at iBlog Conference
travel to Midwest locations and help non-profits build a social media plan
Created a business to help small business owners with social media
Blogged at www.debworks.com and written 396 posts
tweeted 17,429 times
Learned how to use a Flip from PBS reporter John Pemble
learned how my digital camera can make movies from Becky McCray
used Animoto to create marketing plans for local businesses
work with a brain trust of online members who are committed to making a difference
learned how tourism is vital to grow my local community
planned a conference that never happened (failure is a good thing too)
meet so many people smarter than me and it's forced my brain to grow
Here's just a few people I call friend because of social media (this is just a few names) :
Becky McCray @beckymccray
Linda Crim – @Miss_Dazey
Glenda Watson-Hyatt @glendawh
Jon Swanson @jnswanson
Paul Merrill @paulmerrill
Sheila Scarborough @sheilas
Chris Brogan @chrisbrogan
Patsy Terrell @patsyterrell
Cody Heitschmidt @codyks
Drew McClellan @drewmcclellan
Susan Murphy @suzemuse
Jody Halsted @iatraveler
Danny Brown @dannybrown
Phil Gerbyshak @philg
Liz Strauss @lizstrauss
Here's my plans for the future:
Speaking at 140 Character Conference in Hutch
Bringing Oprah to Hampton Iowa
Working with Simon Estes and the Rising Stars Program
Building the best small town tourism plan you've ever seen and implementing it
Traveling and blogging about it (thanks Geoff Livingston for the inspiration)
Sharing the stories of the people in the Midwest
Being the best me that I can be!