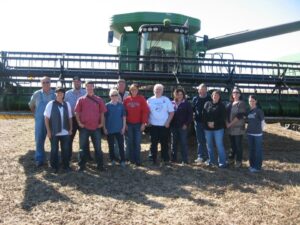 Last year Franklin County hosted a Bloggers Tour.  We invited bloggers to make their way to our community and we hosted them for 3 days.  They experienced life in Franklin County and we enjoyed their fresh view with new eyes.  We've decided to do it again!  October, 5, 6 and 7 we've got room for 7 or 8 bloggers.  Three bloggers have already committed to be a part of the fun.  That means we have 5 spots to fill.
Could you be one of them?  Maybe so.  Please send me an email (deb at debworks dot com) with the following info:
your name and contact info
blogs or channels where you write online
why you want to come
You can bring your partner or spouse.  Simply get here, we've got the rest covered.  Here's an agenda of what we're planning for the weekend.  We would like you to take pics, write blog posts, tweet, facebook and generally make some noise online about your visit.
HARVEST TOUR WEEKEND – Hampton, Iowa
Friday October 5
*7 pm Dows Jam Join local northern Iowa musicians as they jam and hundreds come to listen.  Food, fun and great music.  
Saturday October 6
9:30 am to noon Tour REA Plant and Museum and Old Stone House – step back in time to the 1850's and see what life was like when Franklin County was first settled. Continue on to living history and see the first farmer owned rural electric plant in the United States.
* Noon to 4 pm Ride along with a farmer while harvesting crops!  Combines of today are nothing like they were in the past – GPS tracking, monitoring of each square foot, and so much more – your driver will take you on one round and explain how the machinery works.  Visit a pumpkin patch, see a corn dryer, blog a little and lunch will be served out in the field.  
*5:30 pm Vaudeville at the Windsor – Windsor Theatre  will showcase Hampton's historic Windsor Theatre and take guests back in time to relive an authentic silent movie experience complete with musical accompaniment. Hors d'oeuvres, tours of the Windsor and a vintage car collection viewing will begin the evening.  Live vaudeville performances are just a part of the entertainment.  More details are coming!
Sunday October 2 
11 am brunch at Country Heritage Bed and Breakfast You've not had breakfast/lunch like this before …. We promise you home cooked food that will make you happy!
12 noon Leahy Grove Tour Learn the history of ABCM and find out why the rest of the world looks to them for the correct way to care for our elderly.
2 to 5 pm Harriman Nielsen Historic Farm Fall Festival.  Homemade bean soup, pie and ice cream, brats and hot dogs all head up the great food.   Live music by Yupitsa Polka Band and Two Juhls and A Gem.  What's a fall festival without contests?  See who grew the tallest corn and who has the largest pumpkin!  There is also a cribbage tournament.   The 4-H will sponsor the kid's games.  You can also carve pumpkins, go on wagon rides, tour the House, shop at the flea market and back sale, buy garden produce and watch the homing pigeon release.  Don't forget – free watermelon for everyone!
Doesn't it seem like there's a lot of open time?  We want you to eat good food and be able to enjoy it.  You'll have time to take out your tablet or computer and do a little blogging or sharing online.  You may want to drive into town and see what a small town of 4,000 people has to say for itself.  Or maybe, just maybe, you want to sleep in and relax.  
This event is sponsored by Latham Hi-Tech Seeds, Franklin County Farm Bureau and Franklin County Tourism.