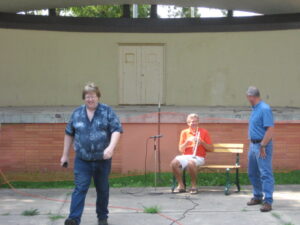 Monday, August 16 at 10 a.m. Brian Stevens and Leon Kuehner will be playing their musical instruments in front of the now closed Hampton Band Shell to raise money for the Band Shell Renovation Fund.      Brian and Leon have issued a challenge to their previous students – Donate to the Band Shell Restoration Fund, and they will match your dollars, up to $5000. 
The Band Shell is being restored at a cost of $90,000.  As of Friday the 6th, $75,000 has been raised.  Brian Stevens and Leon Kuehner will be the main players in the Play-A-Thon for the Band Shell.  Brian led the Hampton Municipal Band for over 30 years.  Leon has taught music at Hampton-Dumont Community Schools for about the same length of time.  Leon said "Students, remember all those lessons that involved us saying Practice! Practice! Practice?  Now is your turn to get us back.  You donate, we play."
Pat Palmer, The Computer Guy will be using his video equipment, two laptops, a microphone and wireless router to capture the day for posterity.  You'll be able to watch the Play-A-Thon online at www.hamptoniowa.org    
Anyone can make a donation.  $30 gets you a minute of time.  Previous student's donations will be matched, up to $5000. Be sure to put in the memo field your year and instrument.  Leon and Brian will play, and play, and play.
How to donate:  Stop in at Center 1 and write a check, use your credit card or give cash.  Go to www.hamptoniowa.org and use the link to pay via PayPal.  Mail your check to Band Shell Renovation Fund, 5 1st St SW, Hampton Iowa 50441.  Come out to Band Shell Park on Monday August 16th and give.  
Sixty years worth of musical instrument playing students equates to a lot of students spread out over the United States and beyond.  This is a big deal.  But then, that's how we do things in Franklin County.