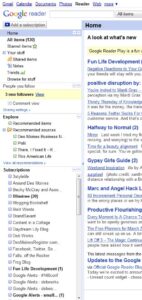 I love my Google Reader.
I'm sitting here with tears streaming down my face, because I read this article by Kyle Munson.  Kyle has the enviable job of writing about the stories of Iowa.  I met him when he came to Hampton to do a follow up story about our Band Shell.  I added the Des Moines Register headlines to my Google Reader, and when Kyle writes – I read.
Last Wednesday I read an article about Pork Gyros and shared it on Facebook.  Deb Keller wrote on Facebook "My first try at Greek cooking: Gyros, pitas and cucumber sauce. Turned out pretty well!".  I got invited to dinner and when I couldn't go, she saved me a to go plate.
I learned this morning that 12 people were talking online about the Des Moines 140 Character Conference. I set up a Google Alert and had the notices come right into my Google Reader.  I can also look at who said it and what they said in these alerts.  I could have them come to my email, and as we get closer to the event I will, but for now – looking at them once a day works.
If you don't have a Google account – get one.  They are free.  Just go to Google.com and create an account.  Then google "Google Reader" and set up your account there.
When I'm browsing the internet and I found a blog I like and would like to receive updates when they write something, I simply click on the RSS feed icon (it's orange) and I'm given the choice to add it to my Google Reader.  Once a day I check my alerts in my Google Reader.  On Saturday morning I go through the 100 or so blog posts.  Do I read them all?  Nope.  They are listed on the left side, I'll click on one blog and then in front of me will be all the unread articles from that blog.  If it's an interesting headline, I read it.  Or maybe I'm overwhelmed and I just mark them all as read!
Is there a learning curve?  A little – but folks, this one is not rocket science and it really saves you time.
Just another tool that helps simplify my geek life!