I would think that mostly women, over the age of 50, would be reading my blog.  Maybe about 450 of them a month.  I write about places I've traveled, diet and exercise, social media, tech toys, Webster City and building possibility.
I would be wrong though.  I use Google Analytics to track how many people visit my site, what they're reading, who they are, their interest categories and more.  It's just smart thinking to know who's paying attention to what you're sharing.  Google Analytics is a free tool and very easy to use.
Interestingly enough, almost 1/2 of my readers are between the ages of 18 and 34.  And 54% of them are men!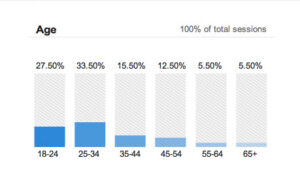 Their interests are different than I thought too. Sports leads the pack. I write every Sunday about my journey to wellness and it's nice to see I'm getting some traction there.  Looks like my tech tools category is viewed too.  I'm always happy to see people paying attention to the travel as well.
I've been writing for several years here and haven't paid a lot of attention to these statistics.  I haven't needed too.  It was a way for me to share about things that interest me.  I wasn't blogging to make money really.  I was blogging as a way to build an identity around Debworks and to put things in writing that I thought were important.  The time has come to make a shift.  I'm looking to create additional streams of revenue related to my stories, my travels, the people I meet and building possibility.  It requires more attention to the details!  Sharing my numbers with you, hopefully, will let you think about how you track your activities too.  In August I had 879 visitors to my site. 641 of them were new.  So my talking and sharing on other social media sites is beginning to get traction.  My bounce rate is high though.  That just means 76% of people are only looking at one page.  It could be they came to read the blog post and were happy with that.  It could mean that I haven't set up my analytics correctly, and I'll be working on verify that this week. I'm reading this link to learn more about improving my bounce rate.  The training provided by Google has been very helpful!

38% of my readers are reading this from their phone or tablet.  That number will only continue to grow.  So making my site more mobile friendly is another factor I'm working on.

The acquisition numbers are interesting too.  Direct and organic searches are people who have found me through search, basically.  However the referral category, when clicked on in my analytics, show me what pages actually referred someone to this page.  On the social one – the majority came from Facebook (I'm there a lot) but some came from twitter and Pinterest.  This tells me I can do more with Pinterest and my blog.  I'm still learning about how to properly use acquisition and ask that you bear with me.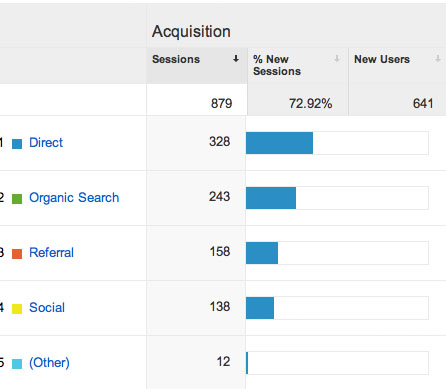 This is just a quick lesson on Analytics and the most important lesson I'm getting here, is I need to learn more about it!  What it does help me with today is knowing who my readers are, who's referring me and what I need to focus on in the immediate future.  My readers have an average read time of 1.46 minutes – and in blog world, that's a good number.  I also plan on using my blog more to share about places I'm traveling to, events I'm participating in and strengthening my building possibility connections.  Analytics helps me with that too.
I'd love to hear in the comments how you are using analytics and tips on what I could be looking to do in the future with these numbers.