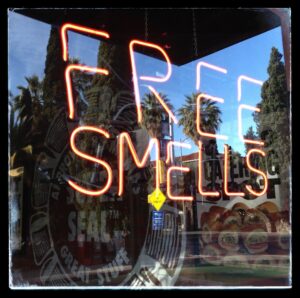 Marketing for a restaurant in a small town involves lots of on the ground work.  You need to let the locals know what you have, where you are, specials, and more.  You'll want to talk to the newspaper, the radio station and the Chamber.  Make friends, visit other business establishments with your menu, build relationships and run the restaurant.  Most owners know how to do those things.
I want to share a few things you can do online, this month, that will help bring customers in the door. 
Do you have a website and is it mobile? 
Restaurants are the category most searched on the go. The majority of mobile searches occur in the afternoon and evening. 80% said they want to see the menu and 62% won't go to a place that has no menu online.  These facts come from http://www.pinterest.com/pin/573294227536531624/
must haves on your mobile site are: quick loading, google maps, tap to contact and online ratings.
 Why not have a blog and a website both? 
You could have static pages that have your menu, location information and directions, specials and pictures.  You can also have a blog on your website too.  On your blog you can have Wordless Wednesday (which is pictures), stories about your owners and staff, your customers, how you make the food (put up a youtube video), promote something in the community you are involved in, etc.  Wordpress sites are generally mobile ready and it pays to have someone design your site for you.  You can easily sign in two to three times a week and write a paragraph or two for a blog post, or you could hire someone to do that for you!  My unofficial research shows that they are lots of foodie blogs (people writing about food from different places) but not very many restaurant blogs.  Is there a niche you could be serving?  Maybe.
Are you using Google Places?
Dont' wait– be sure to register your restaurant under Google Places by clicking here.
Make sure your hours are correct and the directions are good
Upload pictures of your food
Ask your friends and customers to upload pics too
When you search for your restaurant, what do you see?  
Search for your restaurant name – what comes up?  You want to be on the first page of the search.
Search for the category – for example, Mexican restaurant Webster city
Who's leading?  Where are they, what sites?  Make sure you get on those places too.
 What kind of places should your restaurant be on? 
Urbanspoon
Yelp
Yahoo
Tripadvisor
Four Square
Take the time to fill out all the information.  Then go one step further.  Make up cards to give your customers, give them the link directly to where you want them to go.  Ask them to fill out a review. Read this article by Social Media Examiner about Location Marketing.
 Are you on Facebook?
Post something each day — your special, pictures, a story of a fav customer, etc.  Often you can take this information and flush it out a little bit and BAM you've got a blog post too!
Host a facebook contest
Ask your chamber (or whoever is the most active on facebook) to invite their friends to like the page
Does your restaurant have a Birthday Plan?
According to Pinterest, 70% of people eat out on their birthday and bring 4 or more people.  The average ticket is $78 for a birthday party and everyone loves a gift!
So what can you do today?
Set up yelp, urbanspoon, yahoo, four square and tripadvisor accounts
Start taking pictures of all your food
Take pictures of your servers
Set up a schedule for what you are going to post about on facebook for the next month
Find out what is going on in your city this month.  How can you partner up with these events/people?
This is a lot of information.  It's a lot of work to do.  But then, this is your business, right?  I'm assuming you want to be successful and stay open a long time.  It takes customers and they need to find you.  The days of hanging out a shingle and people will come are long over.  You've got to hustle and market yourselves.  You do have choices, and you don't have to do it all at once.  You'll want to make a plan, decide who's going to do what (you may want to hire an agency) and then get to it.
And let me know where you are, I'll visit!
p.s. I didn't talk about Pinterest, twitter, qr codes, and a lot more ideas.  Maybe in your second year ….