Christine Kane is one of our favorite guest bloggers.  I love travel and do lots of it for business.  You can bet I'll use this advice!  
5 Business Travel Apps that You'll Actually Use (and LOVE!)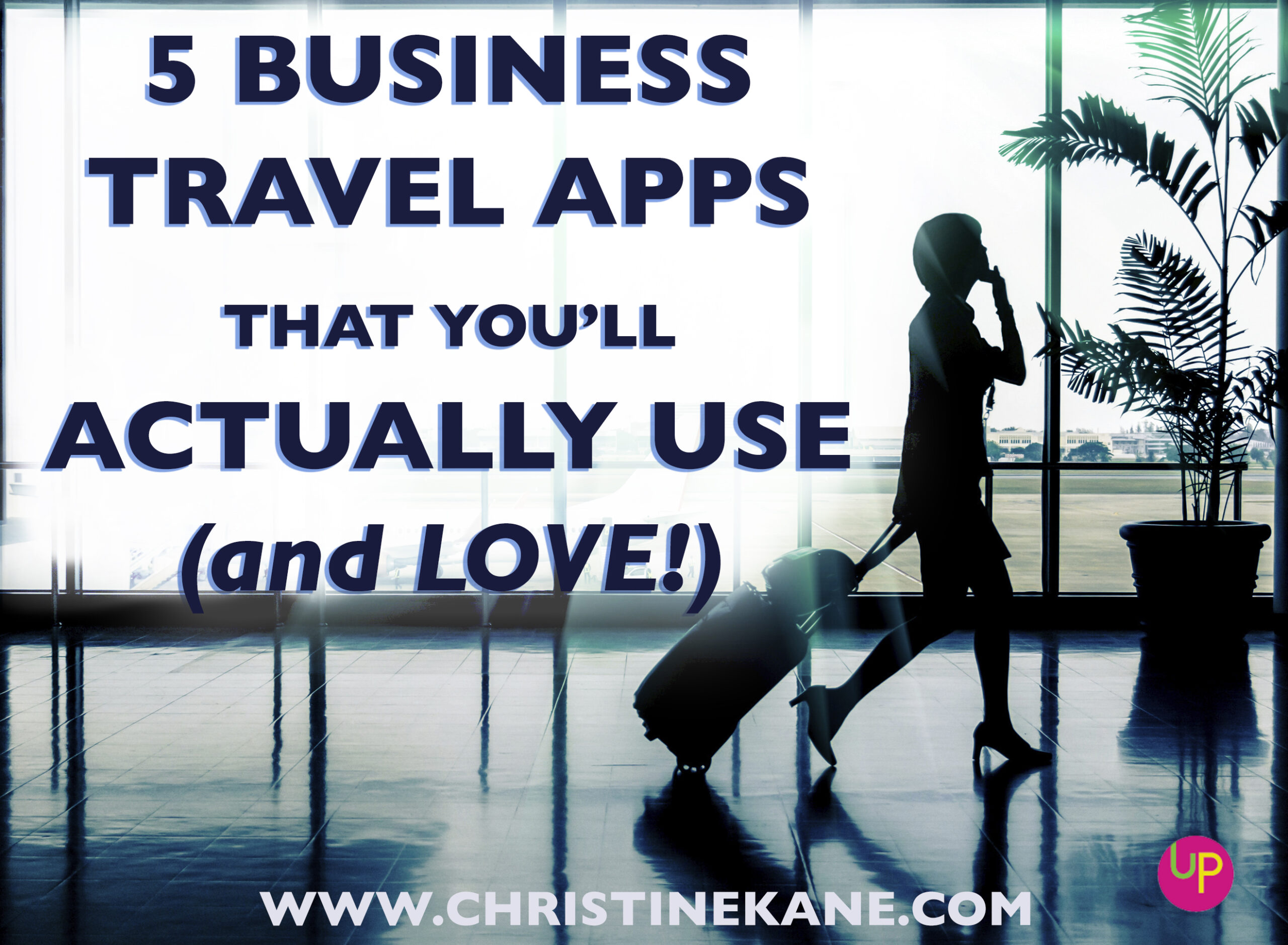 If you travel for business, no doubt you've got more than one app that was supposed to make travel more convenient.  But have you noticed?  Apps can become clutter because they're way too easy and cheap to download.  Yes, there are lots of cool apps – but if you don't actually use them, they just take up space.
So, what are the apps that actually uplevel your travel?  Well, here are my five favorite apps that make business travel less stressful, more efficient and much happier.  Grab them and make them work for you.
AroundMe is a power search tool that finds anything you want nearest to your current location.  I've used AroundMe to find everything from Lululemon to low-carb restaurants to a hair salon that does blowouts.  (Search for "blow out.")  AroundMe will find you exactly what you want – from closest to farthest away – and give you directions (walking or driving) to exactly where you need to go.
If you're traveling in a city, you don't really need a car anymore.  Just use Uber.  From a limo to the airport to a quick ride to the other side of town, Uber is the app that gets you a ride within minutes of your request – with drivers bidding for your business.  You can choose the kind of car and the level of service you want.  And best of all, you don't have to fuss with credit cards, receipts or cash.  It's all done via your Uber account.
If you're a hardcore traveler, TripIt is THE storage spot for your reservation details, itinerary and any other info you need on hand when you're traveling.  You, your assistant or your travel agent can send any email reservation info right to your TripIt account with a simple email forward address.   Then you simply access it all on your phone.  Easy-peasy and so convenient.
Though Evernote is much much more than a travel app (um, it sometimes even makes it into my gratitude journal at night!)  I use it for travel in the following ways:
1 – I created a tag called ICE (In Case of Emergency), and that's where I keep photos of all my credit cards, driver's license, license plate, passport and Global entry info (for international travel).  If you have a premium Evernote account, you can protect these files for security.
2 –  I create a travel itinerary tag for each trip and store documents, speaker info sheets – and any other information for that trip so that I can access it instantly.
3 – I photograph every receipt and store it in an Evernote notebook, rather than saving them in my purse where they typically just drive me nuts.  (Besides, you don't want to be touching those nasty magnetic receipts – they are a huge source of BPA's – super toxic to your system!)  After that, I can email them to my assistant to send to my bookkeeper.
Heart-Rate Variability (HRV) is the variation in the time interval between one heartbeat and the next. When HRV levels are high, you will experience greater resiliency and less stress.  When you're stressed out (in fight or flight), your HRV level will be low.
Travel can be super stressful.  Inner Balance (created by HeartMath) will measure your Heart Rate Variability and then train you how to breathe in order to raise your HRV.  Ten minutes a day can have a huge impact on how you experience stress and manage your life.  Use it before bed when you travel – and you'll sleep much better.
Note:  In order to use the free app, you have to purchase the HeartMath monitor that clips to your ear.  You can get it on amazon or on the HeartMath site. Pricing ranges from $99 to $125.  I love this gadget – the investment has been totally worth it.  (I do not have any affiliation with HeartMath.)
Christine Kane is the Mentor to People Who are Changing the World. She helps women and men Uplevel their lives, their businesses and their success. Her weekly Uplevel You eZine goes out to over 26,000 subscribers. If you are ready to take your life and your world to the next level, you can sign up for a FREE subscription at http://christinekane.com.
TO SEE HUNDREDS MORE ARTICLES LIKE THIS ONE?
See Christine's blog at ChristineKane.com/blog.