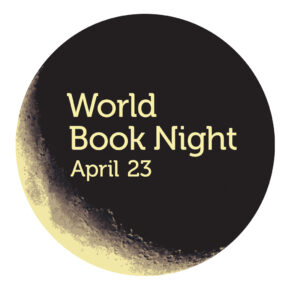 Who is helping give out half a million free books across America on April 23rd? We are!
Webster City Area Chamber of Commerce has partnered with All Cultures Equal, Hamilton County Public Health and RSVP to become one of 2,300 bookstores, businesses and libraries across America supporting World Book Night 2014.
On April 23 —Shakespeare's birthday— 25,000 volunteers from Kodiak to Key West will give away half a million free books in more than 6,000 towns and cities across America.
Deb Brown, Chamber Director, said "We partnered with Mornin' Glory last year and this year is just as exciting!  This year we are giving away free the book "Young Men and Fire" by Norman Maclean.   It's the story of courage, tragedy and redemption of the crew of 15 of the United States Forest Service's elite airborne fire fighters who jumped to their deaths (all but three of them).We have 20 books total and you can get your copy at any the four places.  First Come First Serve!"
MORE ABOUT WORLD BOOK NIGHT 
World Book Night U.S. (WBN) is an ambitious campaign to give thousands of free, specially printed paperbacks to light or non-readers. Volunteer book givers help promote reading by going into our communities and handing out free copies to those without means or access to a printed book.
With the organizational support of local bookstores and libraries, they'll be sharing them in locations such as hospitals, mass transit, nursing homes, food pantries, underfunded schools, and more.
This is not a random giveaway, but a person to person, carefully planned outreach. World Book Night takes place on April 23, 2014 —Shakespeare's birthday— and is in its third year in the U.S., after the UK launch in 2011. World Book Night U.S.'s reach includes all 50 states, Puerto Rico, US Virgin Islands, and overseas military bases.
The WBN picks are by a wide array of award winning and bestselling adult and YA authors, as well as classics, books in Spanish, and books in Large Print. The assortment of WBN titles is based on diversity in subject matter, age level, gender, ethnicity and geography. The books were chosen in a vote by librarians, booksellers, and last year's givers.
Bestselling author Scott Turow said: "I can't imagine any greater compliment to a book — or an author— than to know his work has been selected to welcome people to the pleasures of reading." World Book Night is making a short, free original e-bookavailable to everyone at their website on April 23.
More information, including FAQs and links to our social media —including giver experiences and photographs— at www.us.worldbooknight.org