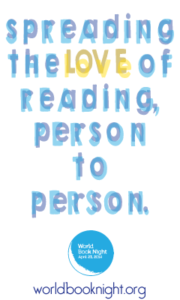 April 23 is World Book Night.
Here's how www.worldbooknight.org describes what they do:
Each year, 30- 35 books are chosen by an independent panel of librarians and booksellers. The authors of the books waive their royalties and the publishers agree to pay the costs of producing the specially-printed World Book Night U.S. editions. Bookstores and libraries sign up to be community host locations for the volunteer book givers.
After the book titles are announced, members of the public apply to personally hand out 20 copies of a particular title in their community. World Book Night U.S. vets the applications, and the givers are chosen based on their ability to reach light and non-readers. The selected givers choose a local participating bookstore or library from which to pick up the 20 copies of their book, and World Book Night U.S. delivers the books to these host locations.
Givers pick up their books in the week before World Book Night. On April 23rd, they give their books to those who don't regularly read and/or people who don't normally have access to printed books, for reasons of means or geography.
Why does World Book Night exist? Reading for pleasure improves literacy, actively engaging emerging readers in their desire to read. Reading changes lives, improves employability, social interaction, enfranchisement, and can have a positive effect on mental health and happiness. Book readers are more likely to participate in positive activities such as volunteering, attending cultural events, and even physical exercise.

Or more simply put, books are fun—and they can be life-changing.
With the passionate volunteer support of thousands of people across the country, World Book Night U.S. is spreading the love of reading, person to person.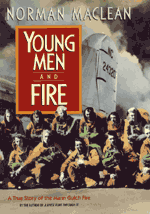 This is my third year as a book giver.  I'll have 20 copies of Young Men and Fire by Norman Maclean.  They will be available at the Chamber office at 628 2nd Street in Webster City.  Are you or do you know someone who is a light or non reader? Bring them in and let me give them a book they'll like!
I come from a family of readers.  My most insistent memory of my grandfather is him sitting in his recliner with a big, thick paperbook in his hands.  My grandmother worked at a Hallmark store that also carried books.  It was my great joy to sit in the back room and read while she worked.  I know the fun of escaping into a book and being someone else for a short while.  I have walked in many lives in many places through the pages of a book.  It is my pleasure, really my duty, to share the love of reading with someone else.  World Book Night allows me to do this.
Amazon describes the story as this: On August 5, 1949, a crew of fifteen of the United States Forest Service's elite airborne firefighters, the Smokejumpers, stepped into the sky above a remote forest fire in the Montana wilderness. Two hours after their jump, all but three of these men were dead or mortally burned. Haunted by these deaths for forty years, Norman Maclean puts back together the scattered pieces of the Mann Gulch tragedy. 
One of the reasons I chose the book is because the author is from Clarinda, Iowa.  He also wrote A River Runs Through It. I happen to like historical stories – real events told well.  This book has many great reviews, and promises to tell the story of these young men.
"They were still so young they hadn't learned to count the odds and to sense they might owe the universe a tragedy."
― Norman Maclean, Young Men and Fire