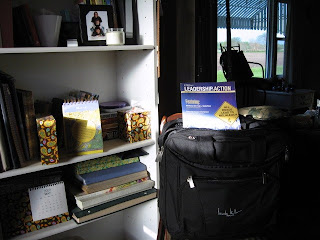 I've been an independent for over ten years now.  
No silly, not politics.  An independent worker.  Inveterate writer.  On the road blogger.  Take it to the streets Melaleuca executive.  
I have a friend who says "
I am psychologically unemployable.  I have to work for myself
."  I fall into the category.   
Here are some benefits of working for yourself
:
1.
set your own hours
.  I often work from 5:30 a.m. to 10 p.m.  Don't be alarmed!  In between I visit my elderly parents, work on the garden, do laundry, and watch one favorite t.v. show.  
2.
most expenses are tax deductibl
e.  I can deduct travel, meals out, my home office, and much more!
3.
I can work on more than one  project
.  If you go to an office and work for someone else, your work is pretty much pre-determined and almost always related to that company's mission.  I blog, write a newsletter, present Melaleuca and followup with my people, write grants — all different missions!
4.
No dress code
. Most often, it's a tshirt and pajama bottoms.  
Now let's take this show in the road
!  My husband works out of Chicago most of the time.
 On occasion I travel with him
.  I can do that with my work, have computer will travel.  The picture above is my Nicole Miller rolling computer bag.  Dell computer, cords, Melaleuca paperwork and I am good to go anywhere.  
I attend conferences as well
.  I can do that with my laptop, and still keep working.  
Then there are the parents
.  They are older.  My dad is pretty sick and we spend a lot of time in a town 40 miles away at the doctors' offices.  Mercy Medical Center is a free wifi zone, and I will always love them for that.  A trip to Mason City is a day long affair.  Have rolling computer bag, will travel I say.  
My local newsletter (www.readhampton.com) is about my community in Franklin County Iowa
.  I go into town often and write about different events, people and activities in town.  My Canon PowerShot A550 is starting to get a lot of use – it will make movies as well as take pictures!  
I used to take a lot of notes, and hope that when I got home I'd remember what they meant and transfer the info to my desktop.  With the introduction of my Dell laptop and Nicole Miller rolling bag into the family — we are now truly wild
workshifters
!