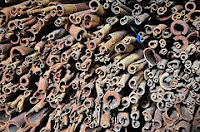 Watkins in the Neighborhood!
Tell us a little about yourself. My name is Denise Passehl. I have lived on a farm near Latimer since 1982 with my husband Gordon. I have a son Brandon who is 32 years old. I have twin grandchildren that will be 3 years old in March. Along with my 3 dogs and many farm cats country life is the life for me.
I grew up in the small town of Geneva, Iowa. I attended Ackley Geneva School. I was born in Hampton, Iowa in 1955. My father owned a grocery store so food has always been something I have loved to experiment with. I had two grandmothers that were excellent cooks along with my mother and father who both loved to cook so I learned at an early age.
Why Watkins? I started with Watkins in 1982. I am an Independent Watkins Associate. I had purchased some products and fell in love with them so decided to make this a business for me and to use the best quality products that I have ever used. What makes them different than the grocery store brands to me is they are fresher tasting and the quality is superior. Watkins products are natural and organic, containing all the natural oils giving you a much more superior product. When using Watkins you will use less saving you money. Watkins also carries cleaning products and personal care products which are natural plant based products, concentrated so you add your own water saving you money.
What are your favorite products? How are they different from what I can get in the store? My favorite products are the Cinnamon, Vanilla and Pepper. The pepper is sneeze proof because all the natural oils are left in it and it does not have any fillers. There is no powdery stuff flying in your face when you use it because of the oils. The same goes for the cinnamon, it contains the natural oils giving you a much sweeter product and you use less. Watkins Vanilla is very popular and well known for its flavor. It is double strength and freeze proof. You use less of it also so when a recipe calls for 2 tsp you can use only one, saving you money.
If you like cinnamon this is the best. Try a taste test with the store brand. Put a little in your palm of the store brand first and taste it. Then put Watkins cinnamon in the other palm and taste it. You will notice the difference immediately. The store brand will be bitter and Watkins will be sweet.
You keep telling me I need cinnamon, why? Bakers love the cinnamon because of it flavor but I also like it because studies have been done on it and it may help lower blood sugar in diabetics and I am diabetic so I use it daily. I put it in my oatmeal. I have also put it in hot chocolate, what a treat!
I've heard of Tasting Parties, what is that? Watkins also has Tasting Parties and they are fun. You get to sample all kinds of dips, breads, snacks and many other items. Who doesn't like to try some new foods and some great ideas for entertaining? I can book Tasting Parties for you. Sometime in the future when the weather is better I am going to have one at my friends house Deb Brown. (We will actually have it at the Methodist Church so we can have more people!)
Who is your ideal customer? My ideal customer is anyone who loves great quality food and loves to cook. Knowing that you have served your family or friends the best and seeing it in their faces is a great feeling. All of Watkins products are versitale and you can make many different foods. Not only the food items but anyone who wants to use cleaning products that are GREEN, keeping you and your family safe using natural plant based products. You also help the environment using the cleaning products.
What is your contact info?I can be reached by calling 641-580-4052 on my cellphone, 641-579-6106 on my home phone, emailing me at denisepassehl@watkinsonline.com, and by visiting my website where you can order online at www.watkinsonline.com/denisepassehl and enter my ID number 300500
What are your favorite recipes? My favorite recipes are usually ones I make up myself. Coming from a family that loves to cook we did that most of the time. I do have some favorites I will give you.
Chocolate Chip Cookies
Ingredients
1 cup/250 mL all-purpose flour
1/2 tsp/2.5 mL baking soda
1/4 tsp/1.2 mL salt
2-1/2 tbsp/40 mL butter or margarine, melted
1/2 cup/125 mL sugar
1/4 cup/60 mL brown sugar
1 large egg
1 tsp/5 mL Original Double-Strength Vanilla
1/4 tsp/1.2 mL Butter Extract
1/2 cup/125 mL semisweet chocolate chips
Cooking Spray
Directions
Preheat oven to 375ºF/190ºC. Spray cookie sheet(s) with Watkins Cooking Spray; set aside. Combine flour, baking soda and salt in medium bowl; set aside. Place melted butter in large bowl; stir in sugars and mix well. Add egg and extracts; mix well. Add flour mixture and chocolate chips; mix until just combined. Drop batter by rounded tablespoonfuls onto prepared cookie sheets. Bake for 12 to 14 minutes or until golden. Remove cookies to wire rack to cool.

Nutrition Facts
Makes about 30 cookies, 1 per serving.
Nutritional Information Per Serving:
Calories 60
Protein 1 g
Carbohydrates 10 g
Sodium 40 mg
Fat 2 g
Saturated Fat 1 g
Cholesterol 10 mg
Dietary Fiber 0 g
Salisbury Steak with Mushroom Gravy
Ingredients
Salisbury Steak
1 pound/454 g extra-lean ground beef
1/3 cup/80 mL dry bread crumbs
1/3 cup/80 mL skim milk
1 egg white
1 tbsp/15 mL (rehydrated in 1 tbsp/15 mL water) Onion Flakes
1-1/2 tsp/7.5 mL Meat Magic
1-1/2 tsp/7.5 mL Beef Soup & Gravy
1/8 tsp/0.6 mL Black Pepper 6 oz
Cooking Spray
Mushroom Gravy
2 cups/500 mL water
2 tbsp/30 mL Beef Soup & Gravy
2 tbsp/30 mL red wine vinegar
2-1/2 tbsp/40 mL cornstarch
1/2 tsp/2.5 mL Thyme
1/8 tsp/0.6 mL Black Pepper 6 oz
1 can (4 oz/113 g) sliced mushrooms
Cooking directions
Salisbury Steak
Combine all ingredients; mix gently. Shape into 6 oval patties, about 3/4-inch/2-cm thick. Spray skillet with Watkins Cooking Spray. Heat over medium heat until hot. Add patties; cook 3 minutes per side or until browned. Remove patties from skillet; set aside. Drain skillet, if necessary.
Mushroom Gravy
Combine all ingredients except mushrooms, and pour into same skillet. Cook over low heat until mixture boils and thickens, stirring constantly. Stir in mushrooms. Return patties to skillet. Cover and simmer about 15 minutes or until thoroughly cooked through. Serve with mashed potatoes or over cooked noodles.
Makes 6 servings.
picture courtesy of rogerwp at flickr.com