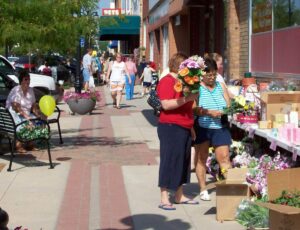 The Webster City Economic Development and Chamber of Commerce hosts The Tour tonight, April 24 from 5:30 to 7:30 pm.  There are 11 locations to seen on The Tour highlighting buildings in the downtown area that are either for sale or for rent.  Realtors and/or owners will be present to answer the important questions about square footage, condition of the building, cost, etc.  One of the Chamber Associate members renamed the Chamber Champions, will be available to talk about the history of the building and share any stories they may know.  You'll be able to pick up a map at the Chamber office located at 628 2nd Street.
The question I hear a lot is "why would you want to show off empty buildings?"   And why would we?  Why would the Chamber want to point out buildings that are vacant?
There are many reasons in fact.  First of all this is a tour of buildings that are for rent or for sale, many owned by Chamber members.  We want to always support our Chamber members, and one way of doing this is by helping to sell their buildings.  But it's more than that really.  We'd like all the people that can come to attend and see what spaces are available and then to go home and talk about it.  Share what they saw with their friends, their church community, and their businesses.
Because somewhere in this town and county is a person who is looking to locate in one of those buildings.
Somewhere there is a kid just out of college who wants to move home and live and work here. 
Somewhere there is a person with a desire to be an entrepreneur.
Dream a little, help change someone's life!
Mike Sherwood from the Webster City Schools will have this information shared with his high scholars that are studying business and Dean Neale Adams from Iowa Central has agreed to promote The Tour in their businesses classes.  The city of Webster City and the Hamilton County Supervisors have heard the plans and agree this is a project that could help entrepreneurs in the area.
A little bit of knowledge about what's available can go a long way.   
Locations on the tour are:
Mathew Bryne's building at 1545 West 2nd Street shown by Stacy Wearda and Mathew
Old furniture store at 1415-1417 Superior shown by Tyler Abens
Jazzy's building at 645 2nd Street shown by Bob Brown and Chamber Champion Jeanne Hill
Chalfant Plumbing at 712 Willson shown by Stacy Wearda and Chamber Champion Rudy Knight
Al Reynolds building at 510 2nd Street shown by Al Reynolds and Doc Hollingshead
Jason Vansickles building at 538 2nd street will not be shown by we will have information available
Old Lomitas building at 600 2nd street shown by Connie Gilbert and Chamber Champion JoAnn Robb
Webster City Movie Theatre at 610 2nd Street shown by David Toyer and Chamber Champion Art Downard – only from 5:30 to 6:30 pm
Bridal Gallery Place at 641 2nd street shown at Connie Gilbert and Chamber champion Loween Getter
Kayser Law Office at 817 Des Moines shown by Nancy Kayser
Public Health Office at 821 Seneca Street shown by Steve Kehoe and Pat Powers
El Toro Loco at 1118 2nd Street shown by Sandy Van Hauen
Stop by the Chamber on Wednesday and pick up the map!  Also, at 7:30 pm meet at HyVee and network, share stories and ideas and enjoy coffee and a treat.