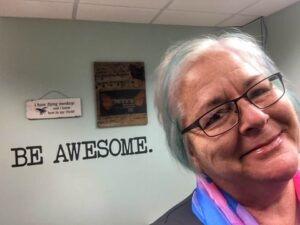 I wrote one three years ago.  It said:
Increasing my physical wellness
spending time with my mom and my family
becoming financially sound
exploring my misfitness
volunteering
travel
I can say that I've been doing these things.  The most rewarding was spending time with my mom – I was blessed to be able to be here for her.  She passed away over a year ago, and yes I do miss her.  I'm walking, working out when I'm in town or not at meetings, improving my financial future, volunteering with Legacy Learning Boone River Valley and in my community helping others when they need it. No need to explore my misfitness, I am simply a misfit! Travel is another favorite.  Just this month I went to the Villages of Van Buren County for a weekend and Iowa City for a conference on Rural Creative Placemaking. Next month I head to Lisbon, Portugal for ten days!
It's time to write (update) my list (again).  This time I've chosen to be more specific, and to make it a year long list.
Walk an hour a day for five days of the week.  Listen to small business and rural podcasts while I'm walking.  When the weather is good, I'll be on the trails.  When it's not, I'll be at Fuller Hall or on location at speaking engagements or while on vacation.
Keep building www.saveyour.town as a viable business and a much needed resource for rural towns.
Face to face time with my family and friends.  Some of them are far away and we will start using technology for the face to face time!
Go on a trip, whether in Iowa or in the world, at least once a month.  Take pictures and tell the stories I hear on the trip.
Self care attention each day – tea at the end of the night, stretching, movement – paying particular attention to just me and adjusting as needed to continue to feel good.
Listening to my heart first, leading with love and curiosity in all things.