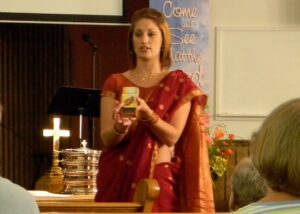 Lezlie Calloway went to India on a mission trip with E3.  Before today I had never heard of her.  After today, I think I'll never forget what I heard.
I attended her home church in Liscomb Iowa to hear her speak about her mission trip.  I expected I'd hear about the Indian culture, how the people lived, what kind of architecture they had.  Boy was I surprised.
Lezlie went on a mission trip where those who went  evangelized.  They didn't build new homes, or dig toilets, or repair anything.  They went with the express purpose of sharing the story of Jesus Christ and making disciples.
When I heard that in church, my first thought was "I could never do that. "  I also thought, what if I got sick?  What if they laughed at me or mocked me?  What if no one listened?  I got nervous for her when she started talking.  I couldn't believe they could go and evangelize and not sound silly, or embarrassing.
Lezlie shared how they talked about Jesus and the Good News.  She shared the joy of telling the stories of Jesus to people who had never heard them before.  Lezlie shared her life with these people – and she made a difference in my life.
There were several great points, wonderful stories and funny things that happened.  But one thing Lezlie said has stuck in my mind.  I'll paraphrase it for you.
Often we say "I'm too sick" or "I'm too stupid" or "I can't do that because ________(fill in the blank)."  God doesn't hear your excuses.  He only hears "I can't do that because I'm unwilling." 
Where else in my life am I unwilling?  Am I using excuses thinking that will work — or am I just unwilling?