I'd like to share the story of one town that suffered a huge economic blow, then kind of got stuck at the bottom, and how they got out.
This is Webster City, Iowa, Population about 8,000. It was home to a factory that at its peak employed over 2,000 workers. In 2009, the corporation announced it was pulling out, and after multiple rounds of layoffs, closed for good in 2011. It was a long decline. You can imagine how people felt hopeless and disillusioned, and it just kept getting worse.
Webster City was one of the 99 towns that Iowa State University studied. The last round of the 20-year survey fell during the aftermath of the factory closure. Strong social ties help after disaster. The researchers found that Webster City had some social ties that were strong, like
knowing lots of people by name,
but was weaker in others, like
feeling like the community would come together when something needs to get done.
The two other big factors were being open to new ideas—where Webster City was a little below average—and welcoming new residents in leadership—which declined.
So Webster City was OK, but not great in a lot of the measures that the study said influence how well communities weather disasters and losses.
I had moved home to help with my father's final illness. I was living about an hour away from Webster City, volunteering and working part time with her local chamber. After my father had passed, in 2013, the chamber of commerce director job opened up in Webster City, I applied. I wasn't sure they'd hire an outsider, but they called me for an interview. This was two years after the factory finally closed for good.
Things still looked pretty bleak in Webster City.
When I drove into town for the job interview, I counted 14 empty buildings. I wasn't sure if I should take the job. They offered me the job, and I took the job. I started March 1, 2013.
And in  my week on the job, the movie theater closed. Locals told me,
"Losing our theater after all we've been through feels like a gut punch."
At one of my first chamber executive board meetings, Joel from the industrial group asked me, "What are you going to do about the empty buildings?" On the spur of the moment, I said, "Here's what WE are going to do.
We're going to do a tour of empty buildings. We're going to showcase them."
To the board's credit, they were open to this very new idea.
I started creating a movement. 
I started by calling around to real estate agents and building owners, and finally they got 12 of the 14 empty buildings to agree to come on the tour. I worked with the city and a builder to find out their condition. An engineering firm made a map of the building locations. The chamber champions got on board. A local historian joined in and wrote stories of what had been in the buildings in the past. Many folks shared it on social media or talked about the idea and encouraged folks to come for the tour.
April 24, we hosted The Tour. 44 people attended.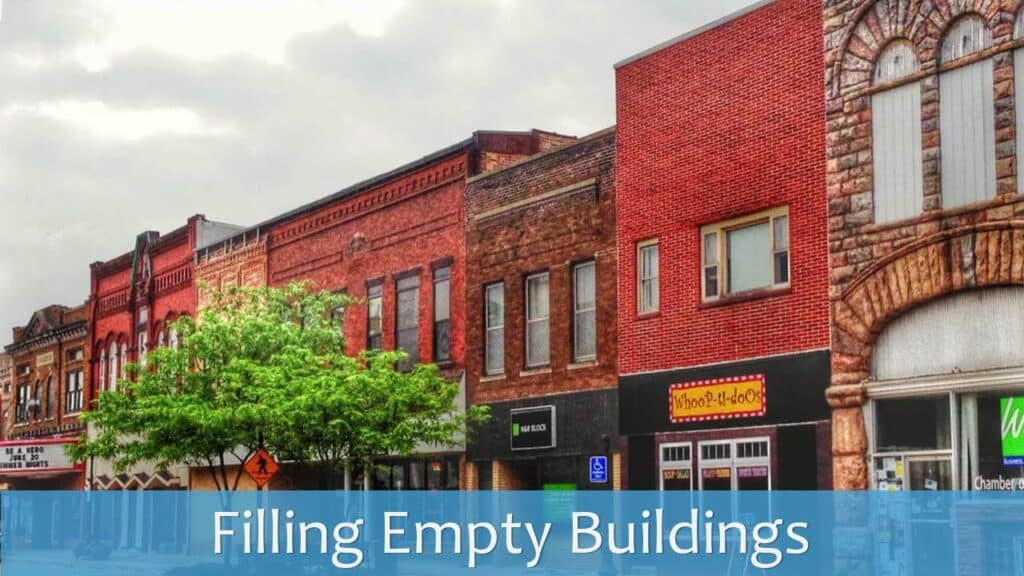 The chamber champions played host in the buildings, told the history and shared their ideas about what could be in them in the future. Some people on the tour talked about buying buildings and starting new businesses. Everyone was excited. But no one bought a building that night.
I still declared it a success.
All the buildings had been cleaned up, and the windows washed. That's a victory right there. The community had worked together again, and everyone was talking about the future. I blogged about it and sent out a press release to other chambers and organizations. SmallBizSurvival picked up the story, and so did several news outlets. Square came to town to make a mini-documentary.
Webster City got some attention for something positive.
What we see and read about ourselves in the media helps shape our view of ourselves.
The most important thing we did was keep talking about it long after the tour. It sparked conversations and ideas, and we continued to follow-up with people. Some of the local businesspeople shared the list of buildings with people they knew and encouraged them to move to a town 'that was moving forward'. Teachers at area high school and university shared it in their business classes.
Another new idea that came out of the tour was a sort of incubator project.
I told a building owner, "You offer 3 months free rent and reduced rent the rest of the year. The new businesses will cover utilities. I'll help the businesses with marketing, and the Small Business Development Center can help with basic business planning."
So several people tried out different business ideas. Some worked, some didn't. In one, a person tried a second-hand store, but quit as soon as free rent was over. In another building, a clothing and accessory place opened. She stayed in the incubator program for a year, then bought a bigger building in the same block and expanded to be 3x times bigger. With small steps, failure is high quality research on what works and what doesn't.
The early momentum was good, but motivation isn't permanent. It requires boosts.
6 months after the tour, I gathered merchants for a guided brainstorming session with Becky. This was November 2013. We got everyone in the room to work together and support local businesses. Everyone left with a list of things they could go back and try right away. By the end of the week, I saw businesses changing their marketing, starting to work together, and a few new people starting to work with the Chamber. I was continuing to work on building stronger social ties.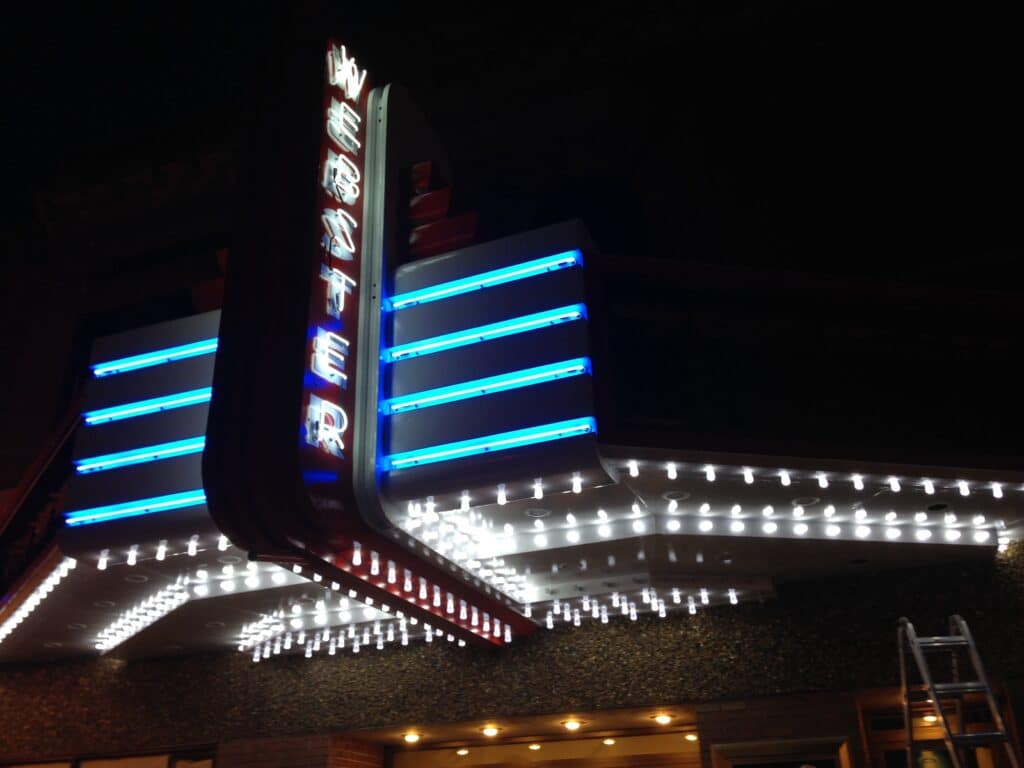 Since the movie theater closed and was now empty, we put it on the tour, too. Jeff Pingle, who used to work at the factory and loved movies, took this momentum to talk to everyone he could think of about buying and re-opening the theater. One guy said to him, "Jeff you have about a snowball's chance in hell of saving that theater." Jeff said, "So you're saying I have a chance!"
Jeff and I got together. I called the mega bank that now owned the building. I started leaving messages with the real estate department. They didn't bother to answer me. Then I called their national marketing department and emailed them. They answered! After a lot of work, I talked them into cutting the price in half as a good marketing move.
But half price was still a lot of money.
Jeff and I Gathered Our Crowd by talking to everyone, getting everyone involved.
The high school students gave the group a name: HERO: help entertain and restore organization. Which was great because they could make everyone a HERO.
I said we needed ideas for ways to raise money besides the usual bake sales and begging. We sold sponsorship plaques for each seat in the theater at $300 a pop. Lots of individuals, nonprofits, businesses and alumni clubs bought plaques, and the newspaper printed all their pictures. That generated even more attention, and it was a big chunk of funds raised.
It was a small but meaningful way for more people to participate.
Another small way to be a donor: the HEROs sold old movie posters they found stored in the building, most for just a few dollars. They had a lot of clean up to do. People came when they could and helped, even a little.
Everyone got to be a HERO. 
In 16 months, the community raised a quarter of a million dollars, mostly from small donations. They not only bought the building, but also revitalized it, updated it to digital projection and hired staff.
Jeff said, "The night we lit up the marquee again, it just gave you this sense of 'We're gonna be all right.'"
Out of the 12 buildings that joined the Tour of Empty Buildings in March 2013, 10 were filled by September the next year.
Of course, there has been some business turnover. That's normal. The empty restaurant building on the tour was first filled by an amazing Italian restaurant. They lasted a year. A Hispanic grocery store opened in another storefront. When the restaurant building opened back up, locals jumped on it and opened a Mexican restaurant. And there were a lot more new businesses, things like the fitness place, the tattoo parlor and the plumbing company.
Employment had just barely started to increase when I took the job in 2013. The prevailing view in town was that no one would open businesses in those empty buildings until another factory came to town.
The turnaround didn't come from a new factory.
There was no new factory. The rebound came almost entirely from those locally owned businesses.
When I started at the chamber, people spent a lot of time talking about the way things used to be. I said that it seemed like in every conversation someone would say, "before the factory closed."
After the Tour, I led or helped create a lot of powerful new experiences in Webster City, like the summer nights concert downtown.
Webster City may not have started out with strong community ties or being Idea Friendly but changing the conversation changes how we think of ourselves, what our identity is.
Taking action through the tour and all the other experiences helped people act their way into a new way of seeing their community.