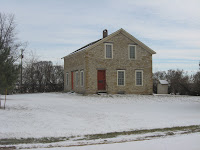 Have you ever had an idea and then met with friends and started brainstorming that idea?
I did that this month.
The Old Stone House, located 2 miles West of Geneva, was the first stone house built in Franklin County Iowa. Leander Reeve took the train and coach to Dubuque and WALKED the rest of the way to Geneva (except there was no Geneva then). He met his brother there and they started on a grand adventure! Leander's wife would not come to the county unless he built her and the children a proper house. No living in a sod house for her! So Leander built her a stone house. That was in 1854.  
The Old Stone House still stands. It now needs about $75,000 worth of work to keep it standing and safe for visitors. The Historical Society is donating $10,000 in matching funds for a grant. We've applied to the Community Foundation of Franklin County for another $10,000 in grant money. Mr. Pitsor is applying to Center One for funding. The big grant is from the state of Iowa for the REAP grant will be for $50,000. We are working on it.
Now here's the brainstorming part. Once we get the Stone House all repaired and safe, what can we do with it? The obvious will be to conduct tours and tell the story. We can have groups come and use the site. School children can travel and learn about our history. What about having an artist in residence in the summer time? How cool would that be?

What ideas do you have? Let me know!