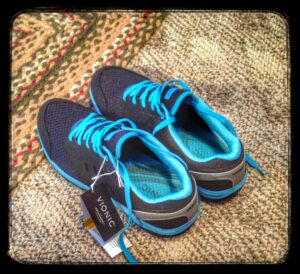 This time of year I love.  I can be outside and walking.  I got a pair of Vionic Motion Venture shoes to try (given to me free).  They are black with blue trim and shoestrings.  Size 11, wide.  I know – big foot.  As I've aged my feet have gotten wider and longer.  Go figure.  Here's a hint to all of you – get your feet measured.  Too tight shoes can cause blisters and pain, among other things. Like bunions.  Too tight shoes can cause bunions, corns and hammer toes.   No one wants that!
"Walking is what your body is designed to do. It strengthens almost every major organ in the body, promotes bone density, and boosts the immune system," says Dr. Weil. "There's no special skill, training or equipment needed, just the right footwear."
Research shows that walking as little as 30 minutes a day can lower the risk of heart disease (America's Number 1 killer) by as much as 40 percent. By even taking two or three 10-15 minute walks per day, people can improve blood pressure, reduce the risk of diabetes and improve mental wellbeing.
According to a study by the American Podiatric Medical Association (APMA), 72 percent of Americans say they do not exercise because foot pain prevents them from doing so. This astounding figure emphasizes the importance of getting started with a pair walking-friendly shoes or sandals that are breathable, offer good arch support, are relatively lightweight and have flexible soles to allow the front of the foot to flex comfortably.
Vionic Footwear with Orthaheel Technology offers footwear that helps prevent and alleviate foot pain and fits a variety of lifestyles. Vionic shoes feature a removable orthotic footbed that supports feet and helps realign the lower-legs, improving posture and balance – an ideal option for daily fitness walking.  And they feel good on your feet, and on your back.  This is my second year of reviewing these shoes — and it really is a pleasure to wear them.
I've gotten my steps up to 3,000 consistently.  Now I head for 4,000.  Drew McLellan, who looks fabulous these days, has lost some weight.  I asked him what he's doing.  He said he does whatever he has to get his steps in — 10,000 of them.  He travels a lot, so sometimes he's walking around his room, or in the gym.  I took some of that advice and started parking further away from my destination.  My plan is to be at 10,000 steps a day by May.  It will be great too — because there are a lot of events this summer that require walking, and lots of it.  I'm happy to be a step ahead!