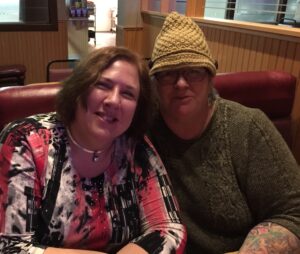 Friday night we left Webster City and spent the weekend in Jackson, MN.  There's about 4,000 people that live there and it's a lovely little town located along a river with a small downtown.  We were invited by a coworker of Keri's who was singing in the Grand Ol Opry Style Christmas Special on Saturday.
I've been eating pretty well – no bread, following the guidelines set for me based upon the testing done by Melanie Plain (3 protein a day, 5 veggies, 1 grain, 2 fruit).  So this weekend was a real test for me – could I travel and follow along on this eating plan and still have a good time?
Road tripping for me is snacking on munchies, drinking soda, talking with your friends and having a good time.  We would need to change that equation!  So instead of chips and soda, we had pork rinds and water – and they were good!  When it came to the restaurants portions – simply no bread with breakfast, omelets were great and I had fruit instead of pancakes or potatoes.  I did have a Not Your Dad's Root Beer – and it was good – because this is a eating plan I have can live with for the rest of my life.
I did notice I didn't have enough water – my legs were sluggish!  When I get at least 64 ounces, they feel good.  My stomach is trying very hard to get better – and that my friends, will be a story for another day.  IBS is messy, and today I'm not telling that story.
The scale continues to move south.  My clothes are getting too big. It's been a good week. And yes, that is a elf hat.