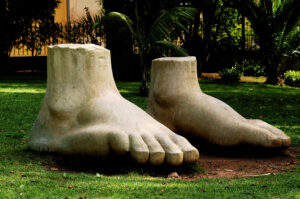 Another quick week – with half of it spent on my feet.
That means I walked at least 5000 steps each day – because I wasn't always sitting at my desk.  Three days this week were spent at Leadership Iowa in Des Moines with the focus on State Government.  We traversed the State Capitol, the Des Moines Social Club and Camp Dodge.  It was enlightening, exhilarating and educational.
My feet hurt.
It's a running joke that I wear drag queen size shoes.  Size 12 wide, womens.  I'm looking for the brand that makes that size in a beautiful, comfortable woman's shoe.  Right now, I end up buying a unisex men's shoe most of the time.  Boxy to fix the wide foot and the heel doesn't grip right.  Infuriating!  I do love my Vionic gym shoes and flip flops – but there simply isn't a good winter shoe for my foot.  Let me know if you find one you can recommend!
Eating on the road is getting a lot easier too.  More and more places are offering gluten free choices.  And my brain is making that choice first.  It's getting easier to say 'I eat wheat free' and not even think about eating any other way.  There are moments sure – I'd like to have some fried ice cream.  I just think about the upset stomach the next day and the long term stay in the bathroom – would it be worth the five minutes of food enjoyment?  Probably not.
Stress – as much as I love to travel, it still creates stress on the body.  There's the getting work done before I leave and catching up when I get back part.  There's the arranging my normal hours to meet my travel hours part.  There's the finding my way around the new environment part.  There's the I hate the cold weather part (well, that's normal winter stress for me that has nothing to do with winter).  There's the handling work emergencies in a different manner part.  All of these stressful things can wreck havoc on your health plan.
Five of the ways to deal with this kind are stress that work for me are:
take your vitamins (Melaleuca for me, because they work) regularly
maintain the same sleep schedule if you can
practice a simple meditation (breathing, reading the Bible, focus on the positive – find something that works for you)
eat well
drink a ton of water