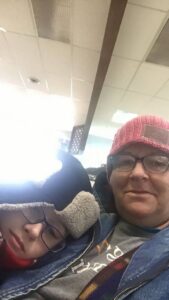 Hockey with an 11 year old – I recommend it to everyone.  I got invited to an Iowa Wild game by Bridget and Bryan Gilbert who hold season tickets and I said yes.  Steven, by 11 year old great nephew, thought that might be the best thing ever – so we went.
Turns out, he was right.
We rode to Des Moines in a work van, with three 15 year olds, Bridget, Bryan and the two of us.  Wells Fargo Arena is a big enough place but it was very crowded.  It was fun walking around, checking out all the vendors and then walking down the steps to our seats.  Even more fun was enjoying Steven seeing his first ever hockey game, seeing him enjoy the fights (hockey, right?), seeing ourselves on the big screen, hearing his lively conversation with Bryan and Bridget and marveling at the wisdom of an 11 year old.
He asked why we didn't have a pro team in Iowa.  I explained it was expensive, at least 20 million dollars to get one started.  Then he asked how people there were in Iowa.  We asked Siri – there are 3.107 million in Iowa.  Steven was quiet for a minute and then said "Everyone could give $10 each, we'd have 30 million and we could have a pro team.  Problem solved.  Let's do this Aunt Deby!"
Sometimes, the answers to our biggest problems are really just that simple.  It's us that make them hard.  I drank two bottles of water last night, had nachos and cheese, had a couple of bites of cotton candy, tried the dipping dots (oh why do people eat that?) and laughed a lot.  Kids – a secret ingredient to a good life — make sure you add that to your life too.