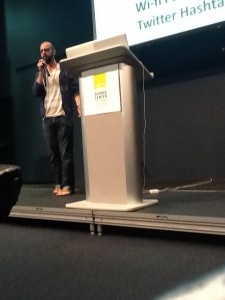 Have you heard of Dwolla?  You will.
Here's a quick explanation from their website:
No cards, just cash
Say goodbye to plastic cards, ATM fees, hidden charges and fine print. Dwolla empowers anyone with an internet connection to safely send money to friends or businesses.
Say hello to the Dwolla network.
It really is that simple, you can pay online, in person or with your phone.  Free for transactions under $10 and only twenty five cents for everything else.
Dwolla was created and founded in Des Moines, Iowa in 2008.  In 2009, they launched across the United States.  Ben Milne and Shane Neuerburg were the first two employees.  It's a brilliant concept and has the big boys running scared.
They are big supporters or the local, small business.  And we here at Debworks are big supporters of theirs.  
Read about their latest partnership with FiSync, then ask your local bank to participate!
Did you participate in Small Business Saturday?  Lots of small businesses did and we are thankful that a large organization is shining the spotlight on small businesses.  But what if we had small business EVERYDAY?
The picture was taken at Social IRL in Des Moines last summer where I had the opportunity to hear Ben speak.
Find more info at: https://www.dwolla.com/  and while you're at it – look at http://www.tikly.co/