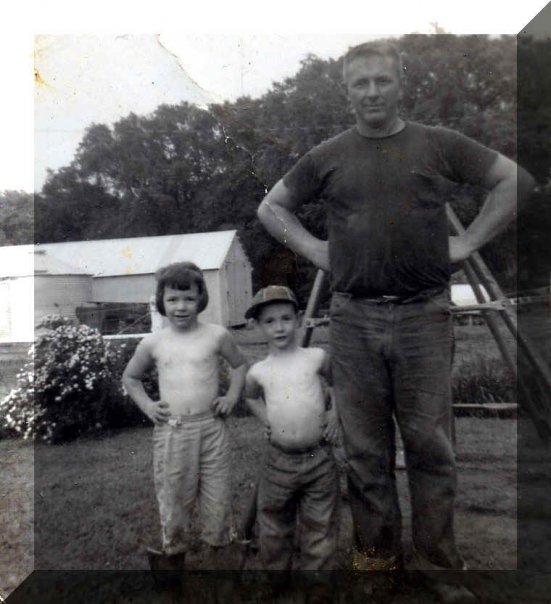 Dad was the first son and last child in a hard working German family.  Did his two sisters spoil him?  Did his mom and dad?  I'm willing to bet they did.  But on a farm, it's hard to be spoiled.  Dad told me Grandpa let him do whatever he wanted to do, as long as the chores were done.  Lyle Youngberg, David Peterson, Ercil McWilliams and my dad were best buddies growing up.  Dad and Lyle once drove Dad's car to Denver.  Lyle had a cousin they went to see and they stopped back through South Dakota to see Dad's cousins.  Can you imagine that road trip?
My dad tells the story of meeting my mom and asking her to the movies. They went to Waterloo and it just poured down rain!  Three months later they were married.   That was December 20 of 1953.
My Dad was this big tall guy and I wanted to be just like him.  He taught us that hard work was all that mattered.  If you worked hard enough, you could get what you wanted.  Growing up all three of us kids learned to do everything around the farm.  Jon was the one he taught how to run all the machinery – and for as long as Dad lived he was telling Jon what to do!
Dad drove school bus for junior high kids, bowled on a bowling league sponsored by Budd Dodd in the 60's and 70's, attended a lot of football and baseball games, wrestling and track meets and plays.  He was strict and set an early curfew for us.  My senior year in high school I went to a party, had a few drinks and came home.  I knew I was in for it.  My surprise came when dad woke me up at 6 a.m. and said "chore time!" He made me eat greasy pancakes and then bale hay all day.  Every time I got sick, he'd laugh.  Learned that lesson!
Mom and Dad both love their grandchildren.  The girls have great memories of trips to Wisconsin, going to Clear Lake and taking road trips with Grandma and Grandpa.   Lorraine came home one day and said she wanted to collect stamps.  Grandpa went right to the post office and bought her stamps! Grandpa would get all excited and say "let's go pick up rocks girls!" and off to the farm they went.  Eventually they learned that my dad loved to see kids pick up rocks from the field.  He used that with Jeff, Jon and me too!
Dad had his first heart attack in 1990 and the doctors said he had to exercise more.  He'd go out to the porch and ride his mile on his old pre-world war II stationary bike – singing really loud in German the whole time!   Dad spent a lot of time woodworking too.  It was a great passion of his.  Many of my friends went home with projects my dad made for them.
When Steven was born, my Dad fell in love all over again.  Steven was HIS boy and would do anything for him.  As dad got sicker, Steven got older and would tell us "I can babysit Oh Poppy!"  He did too – the two of them would watch cartoons together and talk to each other in their own happy language.  He just loved all of his great grandchildren – and always knew who each of them were when they went to visit Oh Poppy.
My dad's life wasn't always really good.  There were some hard days in there.  Yet he persevered and kept on moving forward.  Dad laughed a lot and kept a real sharp wit about him.  He teased the nurses and aids at the nursing home.  Dad also knew that going to church was a good thing.  He just told Penny not too long ago "You go back to church.  You'll find your way there."
My dad has taught me that family is everything, love IS always the answer and laughter is the best medicine.
I'll miss you Dad.
my dad died on Sunday, visitation is today, the funeral tomorrow — many thanks to my friends who've sent notes and messages.  It means more than you can imagine.