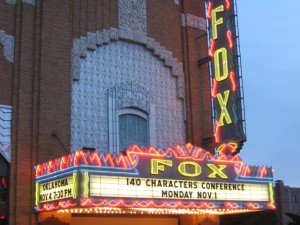 I was the 2nd to the last speaker for the day.  In the morning, I had my presentation all figured out.  However, after hearing over 40 different speakers – I had about a million remarks to make to what they said.  I got on stage ….and found I was crazy nervous!  I'd forgotten that I got nervous before I opened my mouth.  Once I opened my mouth, it was okay.  My hands had not received that message though and they shook badly.  Not a problem, I just held the mike right next to my chest.
Here I am talking about me again — and don't we all do that?  Let's talk about the conference.  Everyone brought their game face.  The speakers were ready.  The audience was ready.  The producers were ready.  The tech guys were ready.  The day game together like a well oiled machine.  Jeff and Becky spoke well, created smooth transitions between speakers, gave us a great box lunch and rolled out the best (my opinion) 140 Character Conference yet.
You can watch all of the videos at blip tv.
See Whats Up Hutch for still pictures
It was a good day for small town America.  We were well represented.
Oh – I told a story about my home town in my 10 minutes.  I stuck with my original presentation!