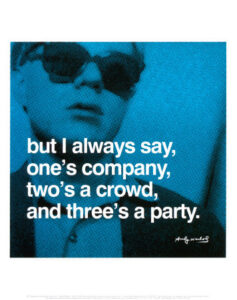 How many parties do you get invites to?
I get a lot of them.  Silpada, Tupperware, Tastefully Simple, Avon, Wild Tree — and so many more.  I do love going to parties that my friends are holding.
Here's a marketing secret – the more personal relationships you nurture, the more your business will grow.  
One of the income producing avenues of Debworks is my partnership with Melaleuca.  I get paid to refer people to shop with them.  It just makes sense that I visit the parties my friends hold, have a great time, maybe buy something – and then invite them to hear more about what I do.
The old saying goes Help Someone and You Help Yourself.
thanks to www.allposters.com for the great image!