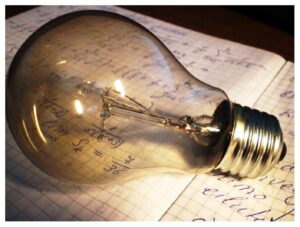 It's hard out there for a small business owner.  You can't just sit back and wait for someone to come buy your product or service.  You have to find ways to market what you have or what you do.
Many advertise in the paper and on the radio.  More and more are using social media to market their business.  Word of mouth has been a staple for years and years.  All of these work if you can find the right balance, put the right amount of time into it and continue to look for new ways to talk about yourself.
Partnerships with 'different' kinds of business is another avenue.  Some of the partnerships we've seen are:
Osweilers, a woman's clothing store, has given $25 gift certificates to two local restaurants if you spent $100 in their store.
inTANDEM Marketing, a local coworking location, has hosted Travel to Iowa presentations for the Chamber.
Wilson Brewer Park and The Depot crew (a local historical site) partnered with Summer Nights (a downtown festival) and brought old timer costumes for kids to try on and have their picture taken.
Schlotfeldt Engineering partnered with The Tour of Empty Buildings and provided the maps for the tour.
We'll be exploring other ways to partner up and cross market in 2014.  Has anyone done this in your town?