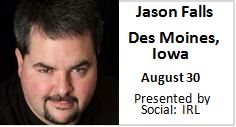 Can I tell you the number of times I've heard "I don't know how to do that."  I'm talking about using social media as another marketing tool for your small business.
The opportunity presents itself this Thursday to spend an afternoon with Jason Falls, Mr. No BullShit, and be a part of an in-depth discussion on social media tools, tactics, content, planning, strategy and measurement.
Take your $65 and visit the event site (just click here) and register to attend on Thursday, August 30 at 1 pm.  Now you have no excuses – here's your chance to learn how to use these marketing tools to create more awesomeness around what you do.  And frankly, $65 is a steal.
Take a look at who's attending:  just click here
Michael Libbie's take on why you should go: just click here 
What I said in June about Jason: just click here
What the Iowa Business Record says:  just click here
Jason Falls says "It's not always about dollars. I think that's something people get caught up on when they start using social media," Falls says. "They're like, 'Okay, I've got a Facebook page, a Twitter account and a blog, so where's the money?' Well, you've got to figure out what you want to use social media for strategically and approach it like you would any other business [initiative]."
Our thanks to http://www.tumblr.com/tagged/jason-falls for the above quote.  Nice article.