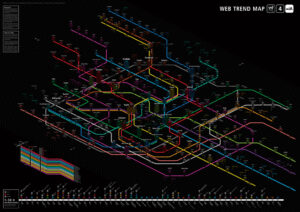 According to CMO.com (an Adobe site) there are 9 marketing trends for small businesses to pay attention to.  They are:
Binge TV watching – not only can you watch on tv, but the streaming services are providing new value.  Netflix, HBO Now, Showtime, Amazon – you can watch tv online now too.
Building Media Plans across the board – so building media plans that fit into many different platforms, and automating it at scale is the new thing.
Messaging apps – the millennials want to be able to chat (text) and apps like WhatsApp, Line and Jott are being used voraciously.
Video Streaming – Meerkat, Periscope are bringing real time interaction into the marketplace.
Ads for the 99% – champagne tastes and beer budgets, how are they being served?  Macys Backstage is an example.
Lists are going out, Infographics are still in, video is the new thing.
The word Millennial is dying out – because they are now living on their own, raising families and want to be taken more seriously.
Shopping really gets social – Shop Now by Instagram, Buyable Pins on Pinterest, and more to come.
Virtual Reality and merged reality – they are working on them.
So What?
It's been my experience when 'experts' talk about trends for small businesses, they are still talking about businesses in LARGE communities.  They're usually not referring to small towns under 50,000 people.  So how relevant are these trends in the other 59% of the country (rural areas)?   Let take a look.
Binge TV watching – is it affordable for us to advertise on tv?  Maybe locally.  If you're a big box store you probably already have a marketing team that handles this.  But if you an independent business in small town – this probably doesn't affect you.  It IS smart to pay attention to what your perceived competition is doing though. And it pays to look at the price for local cable access as well.
Building Media Plans across the board.  I believe every business should build a media plan that fits into the platforms they have chosen to use.  Growing it at scale is a little different out here in the country.  Our small business owners have less than 5 employees and massive growth is not anticipated.  So build the plans, and don't worry about making them huge.  Just make them work.
Messaging apps – THIS IS A DEFINITE YES.  Millennials are much more comfortable texting and using their mobile tools to get immediate information.  Find ways to be able to chat (Facebook has the feature) and use your cell phone more often too.
Video Streaming – I love the idea of live video streaming and we are already seeing businesses using this application.  You can showcase your work, let your followers (twitter) know you're doing a Periscope and you can also save the video for 24 hours.  You can save it to your phone permanently if you wish.  Blab is in beta testing, and I like it so far – and have used it with great fun.
Ads for the 99% – certainly right up our alley!  However, they are talking big stores like Macys's here.  How can we utilize this trend?  Locally – creatively using products like canva.com to be innovative and promoting what it is we do here.
Video is the new thing.  No argument.  Everyone has a smart phone – start making videos and share them with your followers.  Stay under two minutes and have fun.  Don't pay tons of money to have videos made – do it yourself.  It's real that way.
The word Millennial is dying out.  Just tell me what the new word will be. 
Shopping really gets social.  Thank God!  This is simply brilliant.  It's like ebay ramped up – no bidding, no fuss – just push the pay button and I ship it to you.  Instagram is a great platform for retail and I look forward to more of this.
Virtual reality and merged reality – let me know when it's a thing.
Here's the slideshow where this information came from:
http://www.cmo.com/articles/2015/7/10/slide-show-9-midyear-marketing-trends-for-2015.html