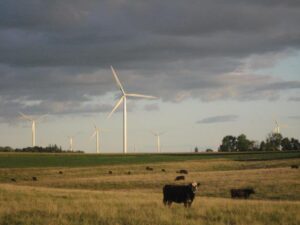 We're hosting our 2nd Annual Bloggers Harvest Tour.  Franklin County Farm Bureau, Latham Hi-Tech Seeds and Franklin County Tourism have teamed up to bring bloggers to our county.  We'll feed them, entertain them, show them around and just generally have a great time while they are here.
Why do we do it?  That's simple, we live in the best county in Iowa and relish every opportunity to show it off to the world!  The inaugural year we had a great group of bloggers who shared our story far and wide.  We've spent this year being interviewed on CNN, traveling around the state talking about the experience, and getting coverage in places like New York and Japan.  The long tail (what happens after you've done the work and had the event) is still swishing!
So what are we doing this year?  Here's our agenda.  Plus, we need one more blogger (we lost one due to a last minute speaking engagement he couldn't turn down), so if that's you or you know someone – have them contact deb@debworks.com
AGENDA
October 5 – Friday Night
5 pm  We leave the Bed and Breakfast and go to tourthe REA Plant and Old Stone House.
6:30 pm Head to Maynes Grove, sample local TownsEnd Wine, stargaze with professors from Ellsworth College, meet some of the movers and shakers in Franklin County… and enjoy the evening!
October 6 Saturday:
Breakfast at the B and B
9:00 leave for the Franklin County Historical Society Museum and receive a tour from an old farmer who will talk about and show the old machinery the museum owns
10:00 visit historic, downtown Hampton
11:00 head to Latham Seeds and see Ag in the Classroom
11:45 lunch at Latham Seeds
12:15 tour of Latham Seeds and 1800's corn
12:45 to 3:00 rides/questions   everyone goes to the field and either rides combines, or talks to farmers Larry Sailer and Val Plagge and another group will visit a nearby farm to see how the Sukup Mfg. Co. corn driers actually work on the farm.
3 to 5:30 back at B and B for downtime
6:00 eat at B and B, family style
7:00 leave and go to
7:30 Windsor Theatre for Vaudeville – An Evening Like It Used To
Sunday:
10:30 Brunch then tour of Rehabilitation Center and Leahy Grove
12:00 pm back to B and B and bloggers head to Harriman Nielsen in their own vehicles for the Harriman-Nielsen Historic Farm Festival
Links to the places mentioned:   
Country Heritage Bed and Breakfast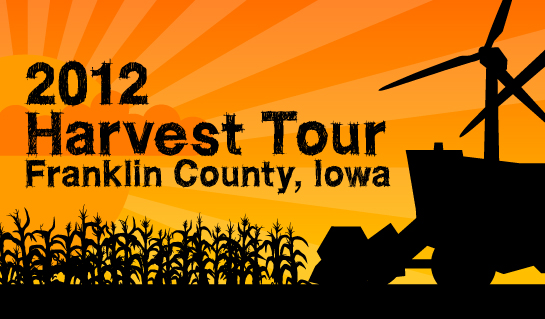 Bloggers coming so far:
Michael Libbie http://insightadvertising.typepad.com/
Stephen Smith http://stephenpsmith.com/
Liz Nead http://neadinspiration.com/
Angela Maiers http://www.angelamaiers.com/blog
Kate Canterbury http://www.katecanterbury.com/
Ben Smith http://www.socialirl.com
Adam Sommer www.visitflyovercountry.com
(p.s. We may also be visited by a team from Japan, their equivalent to our Public Television – we hope so!)