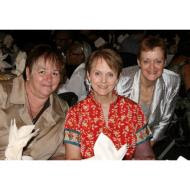 Gary Vaynerchuk started Good People Day last year.  It's designed to recognize the good people you've encountered in the past year.  
What a great idea!  I am blessed – I'm surrounded by good people.  I'm going to give you categories.  I know I'll miss some people – that is not intentional!  
Melaleuca Business Good People
Erin Criss
– she got me started and she sticks to me like white on rice.  It's her constant motivation, positive criticism and strong believe in me that allows me to be the best business person I can be. She's a dear friend too.
Marybeth Green
– she in such a powerful role model! She is also a friend that works with me, even though my business does not financially affect hers.  
Chris Brogan
– gave me my first interview on this blog.  Superstar that he is, graciously agreed and gave an interview.  He led me in the right direction.
Jenn Fowler, Geek Mommy, Amber Cadabra, Northern Chick, LKR
– women I'd follow to the ends of the earth  . (those are their twitter ID's btw) 
Shawna Coronado
– reached out to me and helped lead me in good directions, helluva gardener.
Becky McCray
– gave me hope for my community, answers all questions, inspires me to act.
Danny Brow
n – selfless devotion to a cause – we've adopted him into our family.
Keith Burtis
– ah I knew him when he was just a wood turner!  lol.  Keith picks up the phone and calls.  He gives great advice.  He's a friend.
Keri Holmes
– she showed me how to develop passion in my business.  We think alike.
Denise Passehl
– she is older than me!  by six months.  I have literally known her all my life.  It's been fun watching her grow and growing with her. 
Who are the good people in your life?