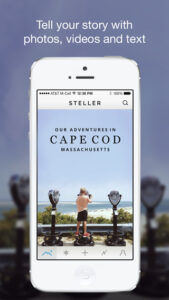 I'm really blown away by the amount of things I can accomplish on my iPhone.  It truly is a mini computer and aids in making my life easier.  Here's just four apps I've started using.  What are some of your favorites?
How many different weather apps are there?  How many just tell you the current temp?  Maybe a map with a storm on it.  I've got a new one I'm using and I really really like it! http://darkskyapp.com  It predicts when it will rain, down to the minute.  It gives you 24 hours advance forecasts.  It has wonderful, beautiful maps.  It costs $3.99 and I think it's worth it.
Ever wonder what cool stuff is around you?  Wouldn't it be nice to have an app that shows you that?  Now there is!  Fieldtrip does just that.  I didn't think I'd find anything in this rural area, but they showed me the Albright Bridge (I didn't know the name) and realized it's one of my favorites!  I'll be using this little free app on my travels and keep you updated on my finds.
I go to the gym three times a week for bootcamp.  It's helping.  Now I've added Gain Fitness to my phone.  They've personalized a 30 minute workout for at home to use 3x a week too.  It's very easy to set up and easy to use too.  I'll keep you updated on that one as well (on Sundays for my Sunday Update report).
Stellar lets you create photo books and/or videos using pictures from your phone.  I uploaded the window decorations from RVTV and you can see it by clicking here.  Nifty little free app!