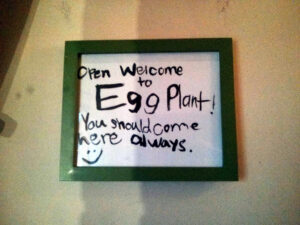 Many thanks to Rebecca LeHeup from OntarioCulinary.com for getting the conversation started!  Why not think about having culinary tourism where you live?
Welcome the visitor:
Have a welcoming retail space.  Is it clean? Is the doorway clear?  Are you greeting customers?
Post hours and adhere to them.  Don't leave early because it's raining.  Don't change your hours every other week.  Post when you are open and post at all the online sites too.
Make sure people can find you.  Have visible signage and route markers.  Can your sign be seen from a driver?  Do you have clear directions on your website?
Make sure you have an attractive website with map, directions, and high quality photos.  It doesn't have to be flashy.  It has to be mobile ready, easy to get around, have your menu (if you're a restaurant) and tell your story.
You want to enrich the visit experience.
Its not just eating out anymore.  It's having an experience and being a part of the local story.  It's making your own real life movie.  How do you do that as an owner?
Do you offer samples?  Why not make mini burgers for people to try, or small sushi samples, or whatever you are known for – make it available to try.
Classes or educational opportunities – can I come to your apple farm and learn how to make applesauce? Or having a pastry party and learn to bake a pie?
Entertainment – it can be a guy with a guitar, the local high school jazz band, or your uncle the comedian.
Host tours – have posted tours for visitors to take.  City folk love to see how cows are milked, corn is picked and cherries are grown.
Host on site events – let the Red Hats Club come and have tea in the field and eat some of your jam!
Knowledgeable  staff – if you serve wine, make sure your staff knows what pairs well with what.  Where is the wine from? What can you tell me about the vinter?
Communicate story and heritage.  I was at a restaurant called Fuel in Clarion, Iowa.  I asked the owner what the restaurant had been before.  He sat down and started his story with "in 1890 this building was a gas station."  This is communicating your story!
Staff should be a brand ambassador for your business.  "I don't know" is never an acceptable answer!
Keeping visitors engaged is paramount:
Are you on social media and social review sites? You'll want to keep them updated, ask your customers to post reviews and share pictures.
Newsletter or blog – simply ask your customers if they'd like to be on the newsletter list.  You can share your specials, talk about your staff, share news about the area you live in and other things they can do when they visit.
Encourage customers to engage – this means taking pictures.  Trying the samples, writing reviews and giving suggestions.
Offer incentives, run contests and promotions – it's a great way to bring new customers into your location, and to bring others back for second visit!