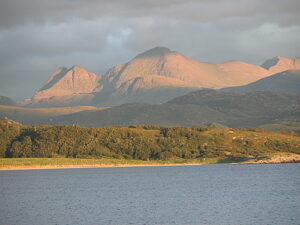 When I was a young girl, I dreamt of walking the moors on an English coast somewhere, following my Heathcliff.  My coat would be a cape that went to the ground and fastened only with a big brass button.  My hair would be flowing free in the wind, the view bringing tears to my eyes.  My heart was broken, Heathcliff was not mine.
Those rose colored glasses I wore were pretty powerful.  The truth? It's cold on those moors and one big button lets that cape flap in the wind and those cold goes clear through your bones.  The tears in my eyes? Heathcliff was a mean SOB who hurt all of those who loved him.
It's a wonderful thing to have dreams.  They make us smile when we think about them.
I think it's even better to have goals.  With goals you can see the path you need to take.  Goals allow you to not just imagine things, but to actually see yourself achieving them.  The bigger the goal, the bigger the reward when you reach it.
14 years ago I decided I wanted to go to Scotland.  I had never traveled outside of the United States and had no idea how I could go to Scotland.  I set a date for one year in advance and began my research.  Passport, luggage, savings account – first steps on the journey.  I went online and met a friend from Montana who agreed to go with me.  I read Outlander by Diana Gabaldon (historically set in Inverness where we were going).  We found a cottage by the ocean (ocean I said! with moors).  The planning unfolded like a good book.
One year later I found myself headed to London on Air India to meet a friend I'd never met before.  It was a scary moment – was I nuts?  20 hours later Judy and I were in a car driving on the wrong side of the road having the adventure of a lifetime.  We met the chief of the Comyn Clan (my mother's family), Sir William and spent the day.  We visited the Isle of Skye.  We wandered around the countryside and slept in the car one night.  And we walked across the moors in September.
It was cold, the wind whipped fiercely.  I stepped on a soft spot and was up to my knee in muck and thought I'd be stuck forever.  Those romantic dreams of my youth quickly died.  To be replaced with a wonderful reality that I had dreamt of and planned into existence.  My journey to Scotland was better than I had imagined it could be.
I still dream of wonderful, romantic things.  The difference now is I turn them into goals – and go for it.
The picture is from Panoramio and of the evening sun at Gairloch, Wester Ross, Scotland – where we traveled.