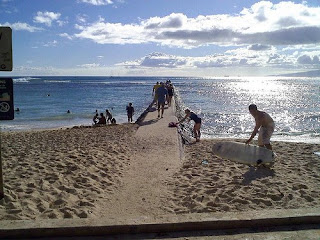 I've spent the last year studying the phenomenon known as social media – or as I now like to call it – networked communications. I've always networked in work and life – and this was a great fit for me. I took the skills I had, am honing the ones I'm learning – and have figured out a couple of ways to make them useful to me.
I've learned twitter,
Facebook
, blogging,
linkedin
, google docs (all things google really),
slideshare
,
flickr
, and use them all in my business.
(By the way, there are no social media experts. The medium changes way too fast for that.)
There is a lot more out there – and I've chosen to get better at just a few of them.
I operate several businesses under the umbrella

Debworks

.

One of those is working with small businesses to determine if they need an online marketing plan, what that plan can be, implementing it and teaching someone how to take it from there.
I also work with team mates and lateral team mates on setting up accounts for
Melaleuca
. I volunteer at various organizations in my community. I belong to the Chamber of Commerce. I travel for family and for business. I take care of my elderly parents
. I'm busy.
Because I network so much, I am starting to have a problem.
People want me to teach them how to use some of these social media tools. For free. I hem and haw about the answer to that. I am in the process of setting up some things so my associates and their friends can utilize some of my teachings in a better way. But it's not going to be free. And the tools I and my team are creating are not ready yet.
It was a lovely process (is a lovely process really) for me to learn how to do these things. It's even fun teaching others. But imagine this — I could spend 4-5 hours EACH day helping someone. That's 4-5 hours away from my business.
It's not that I don't want to be there – to help and answer questions. It is that I need to work my business FIRST.
I've blogged about how to twitter and blog (see the labels on the right?). I suggest people review that first. Then let's talk some. That way you will have a more focused idea of what you want to know.
Then

I'm going to take a page out of Keith

Burtis

' manual.

I'm going to work for one hour a week with someone who asks for my help, and really wants to work with me. I think Fridays are a good day to do that. I was one of the fortunate ones in that Keith worked with me. He was HUGE in my twitter success.
It's just hard to figure out where to draw the line between being helpful …. and as my friend Jenn says … in being a sucker.
Anyone got some brilliant ideas? I'd love to hear them!
Lively discussion has ensued and I just got this youtube post from Seth Godin – who really is often the last word for me. I see the synchronicity of my day here.