Melanie Mayberry is a lot like you and me.  She goes to work, she volunteers in the community, she has good friends and she sings in the choir.  She also can put pen to paper and write an interesting review, tall story or the truth.  I've asked her to share here monthly with a blog post.  Please enjoy! 
For a while now, I've been contemplating starting a blog of my own. The usual self-doubt surfaces with questions of "who cares what I have to say" and "what would I write about?"   Then something will happen…a serendipitous moment when I think "I really need to tell this story!"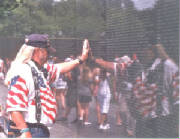 Today brought one of those moments.  An article from The Maryville Daily Forum newspaper announced "State Honors Await Local Musicians and Family."  My old friend, Britt Small and The Festival Family of Skidmore, Missouri, will be inducted into the Missouri Music Hall of Fame on Saturday, September 1st.
Britt was the leader of "Festival", a hugely popular show band that formed in 1973 and stayed together for 27 years.  They were successful as a group, recording 18 albums, as well as living together as an economic communal family on a farm outside Skidmore.  Britt, as well as several members of the band, held degrees in music and broadcasting from NWMSU, and Britt's father was a Dean of Faculty and Vice President of Academic Affairs.
But music and school are just a part of Britt Small's story.  He also served in Vietnam as a paratrooper with the 173rd Airborne.  He earned the Purple Heart after being wounded overseas.  "When I came home, I couldn't find a job," he says.  "So I started a band.  I know music. It's something I can do."
Touring in the '70's, '80's and '90's, the band worked with icons of music such as Johnny Cash, June Carter, Roy Rogers and the Sons of the Pioneers.  And as the years passed, The Festival Family grew more and more passionate about helping veterans and creating awareness of prisoners of war. The band performed at dedications of the Vietnam War Memorial (The Wall), the Three Fighting Men statue, the Vietnam Women's Memorial and the Korean War Memorial in Washington, D.C.
Although Festival retired in 2000, Britt still frequents veterans' events, hospitals and care homes across the United States.  "It is really not me, it's the music," he says.  "I'm just the purveyor."
Considering himself patriotic, but not political, Britt also speaks at schools about the importance of honoring veterans and respecting the U.S. flag.  When the reporter asked Britt about his 52-year professional career, he replied that he doesn't really distinguish between his life and his music.  It's all one blended experience.  "I reckon we were born that way.  Everything happens for a reason.  Life is a series of concentric circles.  It all continues to connect, and music brings it all together."
Britt Small and Festival may not have had number 1 hits, but they certainly made history. And they've made a difference to so many people…more than they'll ever realize.  I'm proud to consider them all my friends, and so very happy that my own life circle was concentric with theirs.  Well done, and well deserved, Festival.  May music continue to bring it all together for you for a long, long time.