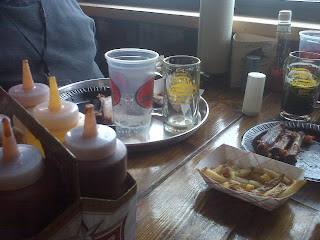 Lunch on the road – it can be a challenge.  Empty calories for food that doesn't taste that great.  
Not the case yesterday – we went to
City Barbeque at 7706 Voice of America Centre, West Chester OH (http://cityqbbq.com) 
You walk in into a rustic setting and see
smiling Tony
behind the counter.  It's North Carolina kind of barbeque – vinegar in the sauce and pulled pork.
But wait — did I see ribs?  Oh buddy I did!  It was
buck a bone day
.  I had five ribs, homemade french fries and rootbeer from a tap.  Ten bucks.  Six different sauces to choose from – I tried the sweet barbeque and the mustard barbeque sauces.   There was
no wait
for the food.  You place the order, and go pick it up.  
Premium smoked meats that are smoked on site and can take up to 20 hours to prepare. They sometimes sell out and refuse to take short cuts.  If they're out, they're out.  
They want to give you only the best, and not cut corners.  
Take a sample
first.  Go on, try a bite.  See if you like it before you order.  
If you get to your table, and eat a little and realize it's not what you wanted, it doesn't taste good to you — just bring it back up.  
They will replace it with a similiarly priced item, no questions asked.  
What lessons did I learn from City Barbeque?
– smiling customer service
– good selection within their niche
– no questions asked return policy
– best product in the county
I think we may go back today …..