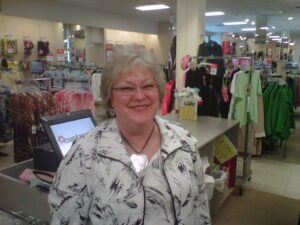 This is a post where I talk about brassieres.
No no – don't run!  I also talk about customer service.
I'm attending the 140 Character Conference in Des Moines May 9 and will be speaking.  The clothing attire is casual.  However, I need new undergarments.  I've lost a few pounds, so I needed to be measured for a new brassiere.  A girl wants to look good on camera you know.
I headed to Ames last week, thinking we'd just go to Lane Bryant.  I'm tall and big, so Lane Bryant is a lovely place to shop.  Except when we drove the 57 miles one way, we found out that Lane Bryant packed up and left in the middle of March.  Four other stores in the mall did not carry my size, let alone someone to measure me.
It was too late to order online and be guaranteed I'd get my clothing before I had to leave for the conference.  Sigh.  Looks like I'd be stuck with the old stuff.
Today I went to Waterloo to attend to family business with my mom.  My mom knows just about everything.  So I asked here where we might go in Waterloo.  She said "no problem honey.  We'll go to Younkers."
Oh no, here we go — to an old lady store.  Oh well, I'd humor my mother.  She just chuckled when I sighed.
Younkers, to my surprise, is no longer an old lady store.  Not only did I find very cool clothes in my size, I found the real treasure — Betty Nichols. We went to the Intimates section and mom asked Betty if should would measure us.  Betty said "I'd be happy too.  Let me finish ringing up this customer, and I'll be right with you."
She then grabbed her measuring tape and took us to the dressing room.  Where she measured us.  And then went and got brassieres in our size and waited while we tried them on.  Mine fit funny.  Betty said "75% of looking good in a brassiere is in the fit.  Let me fix it for you."  Betty showed me how to adjust the straps for a better fit, how it should fit straight across the back, and a few other secrets.
You can't find many stores where the clerk knows how to fit you for a brassiere.  It was more than that though – she was kind, polite and discerning.  She also left ten minutes later than when she was supposed to.  Because she was helping us.
Go to Waterloo and visit Younkers.  Ask for Betty Nichols.  She understands customer service.