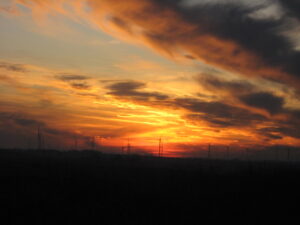 Debworks is working with Latham Seeds, Hampton Area Chamber of Commerce and Farm Bureau to bring ten Midwest bloggers/tweeters to Franklin County for a Harvest Tour September 30 to October 2.   The idea is to show bloggers what agriculture was and is in a real, rural community.  These bloggers/tweeters will blog about the Tour, take pictures, tweet and facebook remarks as well.
We ask that you find their way to Hampton, Iowa Friday night or Saturday morning by 8 a.m.  You will be put up at a local hotel and/or bed and breakfast.  Saturday and Sunday we will show you Franklin County during Harvest time.
Friday evening we will have a wine and cheese meet and greet at Maynes Grove for those who come in Friday evening.  We'll travel out to Maynes Grove for a little star gazing in the country and wine tasting by TownsEnd Winery.   Bring a jacket and a blanket – it might be a little cool.
Saturday morning bright and early at 8:30 a.m. we will head over the Franklin County Historical Museum and tour the machinery area and hear stories about how it was to farm "in the old days"  from Joe Pitsor.   At 10 a.m. we will head downtown and visit specialty shops, historic Carnegie Library, the Courthouse or maybe just have a cup of coffee at merry bees.  There will be wifi hotspots available for bloggers to download pics and work on notes.  Each hotel and bed and breakfast is also wifi ready.
There's nothing like a good, hearty lunch and coffee while you're working in the fields!  You will get a chance to eat outside at the Roy Arends' farm, and then ride a combine!  Harvest time is pretty crazy for farmers, and they drive those big machines lickety split – so our riders will need to be ready to jump in, ride a few rows, and jump out.  View how the technology of today makes farming a whole new ball game.  After everyone that wants to have ridden, questions will be answered by local retired farmers and Farm Bureau members.   Plan on seeing a live grain presentation by Sukups Manufacturing Company, riding on gravel roads behind a tractor, and eating good farm food.
On October 1st, Preservation Iowa is teaming up with the Windsor Theatre Development Corporation, Franklin County Tourism, the Franklin County Arts Council, and the Hampton Area Chamber of Commerce–a Main Street Community, to host "An Evening Like It Used To Be". The evening will showcase Hampton's Windsor Theatre and take guests back in time to relive an authentic silent movie experience complete with accompaniment.   Our bloggers will have the opportunity to ride in an antique car around the square, visit with dignitaries from around the state and attend An Evening Like It Used To Be.
Sunday morning bloggers can attend a local church, sleep in late or drive around the country at their leisure.  We will have a brunch at County Heritage Bed and Breakfast.  Finally, if the weather holds, everyone will visit the Harriman Nielsen Fall Festival.  The Harriman Nielsen Historic Farm was owned and operated for close to 100 years by one Danish family.  The two daughters never married, yet were very active in the community and in the arts in Iowa.  When they passed, the farm was given to the Historical Society.  Every year, the first Sunday in October, they host the Harriman Nielsen Fall Festival.  Plenty of food, family entertainment, tall corn contest, horse and buggy rides – and pumpkins, gourds, and such harvested from the garden are for sale.
Are you the blogger we are looking for?   Will you commit to joining us?  Send me an email at deb at debworks dot com and let me know why we should choose you.