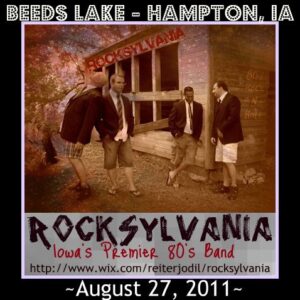 Beed's Lake BLAST (Beeds Lake – A Story to Tell) and Restoration Run kicks off  Friday night with Race Registration and Pasta Feed at the Beeds Lake Lodge.  The Restoration Run includes a 5K, 10K and ½ marathon.  Runners and walkers are encouraged to attend.  All run/walk participants will receive Pasta Dinner, Breakfast, and long sleeve t-shirt and goody bag.  Visit www.friendsofbeedslake.com or call Mike Sutter at 319-269-1024 for more information.
 Saturday brings lots of exciting events for kids and adults alike.  There will be a Kid's Fishing Tournament and Clinic at 10 a.m.  Bring your young ones with their poles and bait and be ready to catch fish.  There are four age brackets ranging from 2 to 17 years old.  There will be prizes in each age bracket for biggest, smallest and most fish caught.  If you don't have a pole, a few will be available but you'll want to bring your own bait.
 The Golf chipping tournament starts at one and is for all ages and promises to be an exciting event.  People will be hitting golf balls into the lake and aiming at a target as well.
 Park Ranger Terry Manning will be giving an historical and environmental tour of Beeds Lake – by water.  The canoes/kayaks will be supplied and two tours are scheduled in the afternoon at 2 and 4 p.m.  This is guaranteed to be a big hit and one you won't want to miss.
 Popular local entertainment will be performing in the afternoon – Yupitsa Polka Band and Two Juhls and a Gem.  Bring your chairs or blankets and sit back and enjoy the sounds of our local people.
 Food and soft drinks will be available for purchase at the Snack Shop.  The Franklin County Tourism Board will also be selling hot dogs and goodies during the lunch and dinner hour.  If you have an inkling for other beverages, feel free to bring your own coolers.  (that means no beer tent, but you can bring your own in a cooler!)
 Rocksylvania, the world's best 80's cover band, will be the keynote entertainment from 6 to 10 p.m.  Come prepared to rock 'n roll. Rocksylvania has set its sights on playing easily recognized music from the Decade of Glam including Bryan Adams, Journey, Bon Jovi, Poison, John Mellancamp, Duran Duran, Styx and many others.
 Fireworks sponsored by Hampton Jaycees will close the evening's festivities.  Please visit www.franklincountytourism.com for a complete lineup of events or call Center 1 at 641-456-5668 for more information.
 Will we see you there?