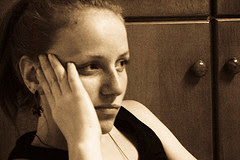 She Speaks did a survey on how we are shopping during this economic downturn.

 Here are some interesting results

: 
Many of you are more uncertain (52%) and more stressed (42%) because of the economy, but

many of you are also more grateful

(29%) for what you have.
Overall,

you are spending

less on jewelry (68%), dining out (60%) and travel (58%), but

more on groceries (73%), make up and beauty (58%), gifts (53%) and chocolate (52%)!

Sixty-eight percent of you consider yourselves thrifty and over

half of you use paper coupons (57%) and online coupon codes (52%)

to save money during the recession.

Price is the top driver of your purchases of household products (59%)

, food (58%) and clothing (51%), but

brand reigns supreme when shopping for personal/beauty products (34%)

and cars (31%).
Let's just consider these results

– put them in context of your network marketing business.  I will use Melaleuca as the example here.
Women are spending more on make up, beauty, gifts, chocolate. 




Over half are using either paper or online coupons. 




Household products are bought according to price. 




Brand still dictates what personal care/beauty products women buy.  
That means when I give a presentation about Melaleuca products I'm going to emphasize this

:
Our personal care/beauty products line is Nicole Miller

.  She's a well known fashion designer who decided she wanted safer products for her customers and teamed up with Melaleuca.

Our household cleaning products are concentrated and price actually turns out to be less expensive than the dollar store

.  Imagine: safe, non-toxic products that are less expensive than the dollar store! 

Our marketplace is where you can shop online at stores like Target, Kohls, Dell, overstock.com, Sears (and 70 other stores) and be guaranteed to save up to 15%!

 No more cutting out coupons – just shop online and receive the discount or have the rebate sent to you.

We've got all kinds of great gift ideas.

 What woman doesn't like to be pampered?  You can put together a great gift selection with our products!