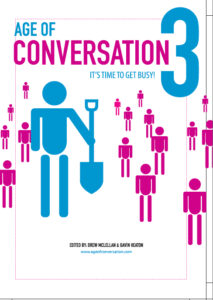 Drew McClellan is a local man from Iowa.  We've met on the tourism, Iowa, bloggers circuits.  He's compiled a book or two.  I got asked to write in the Age of Conversation Book 3.
Take some time – check out all the authors listed below.  They are experts in their field and have blogs and sites you'll enjoy.  This is one of those blog posts you will add to your favorites (or bookmarks) and return time after time.
Stay tuned for all the information on how to find the book – and what's in it!