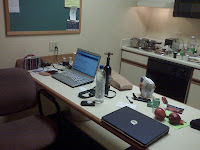 We are staying at Homestead Studio Suites at 9701 N. Shannon Avenue in Kansas City.  65 degrees in Kansas City today.  Rain predicted, the sun shined the whole way here from Des Moines.
I chose this hotel because we stayed at a Homestead Studio Suites near Chattanooga a couple of years ago and loved it.  
We were graciously met by the front desk clerk, who happens to be the Hotel Manager Pamela J. Newman.  She checked the four of us into three rooms.  Our room has a sofa bed, a queen size bed, a stove top, full size refrigerator, and a desk area!  
It's also very clean, there's a light breeze coming through the window – and I'm happy.
It's amazing what a little warm weather, a nice room and a happy husband will do for you! 
Oh – and there's a bulletin board!  I can put up my ideas, projects and inspirational pictures.  The bedspread – light tan with dragonflys on it.  None of that 80's purple and red geo design.  The entrance door to the room is on an inside hall.  There is also wifi and an exercise room.  
Recommendation?  You betcha!
 I'll be eating barbeque at Smokin Joes tomorrow — stay tuned!